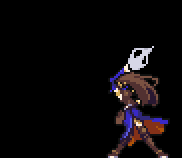 Macir
(possibly Latin for "mace") is a Weapon-type
glyph
which has the
Strike
attribute. It appears in the form of a hammer and as with other types of weapon glyphs, it is divided in three levels:
Union Macir
Edit
Equipping a Macir glyph on both arms and activating their glyph union will unleash Union Macir. Shanoa will swing a gigantic hammer overhead and smash it to the ground to deal heavy striking damage.
Item Data
Edit
Animations
Edit
Ad blocker interference detected!
Wikia is a free-to-use site that makes money from advertising. We have a modified experience for viewers using ad blockers

Wikia is not accessible if you've made further modifications. Remove the custom ad blocker rule(s) and the page will load as expected.