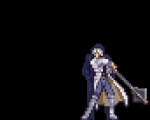 A Mace is a large cudgel (club-like weapons). It is usually the first and weakest cudgel found in the game and is generally stronger than the swords available at the time it is first found, but slower. In all instances, it deals Strike damage, which makes it a good weapon to use against armored enemies.
In Castlevania: Portrait of Ruin, the Mace has the ability to hit twice to enemies on the ground, a characteristic which shares with all Axe-type weapons in the game.
Item Data
Edit
Item Data: Mace
Image

Name

- Game
Description
Type / Users
Attributes / Consume
Statistics / Sell
Found
Notes
Iron Cudgel
Club
Alucard 
ATT +9

Find: Master Librarian's Shop

Effect: Flail (slow)

A large club
Hammer
Soma 
Attrib: Bash

ATK +32
Sell: $400 
Buy: $800 Find: The Lost Village, Hammer's Shop

Effect: Overhead Swing; Lunge
Evolve: + Needles Soul >> Morgenstern

A brutal but very short club. Its large, wide head creates a distinctive sound when swung.
Axe (One-Handed)
Hector 
ATK +25

Create: Gano + Steel

Evolve: Morgenstern, Piko Piko Hammer

A large metal club.
Weapon (Axe)
Jonathan 
Attrib: Slash
Consume: 40 MP (Critical Art) 
ATK +45
Sell: $200 
Find: City of Haze

A large club.
Cudgel
Alucard/Soma 
#hands: 1

ATK +5
Sell: $450 
Rarity: *

Ad blocker interference detected!
Wikia is a free-to-use site that makes money from advertising. We have a modified experience for viewers using ad blockers

Wikia is not accessible if you've made further modifications. Remove the custom ad blocker rule(s) and the page will load as expected.