Ad blocker interference detected!
Wikia is a free-to-use site that makes money from advertising. We have a modified experience for viewers using ad blockers

Wikia is not accessible if you've made further modifications. Remove the custom ad blocker rule(s) and the page will load as expected.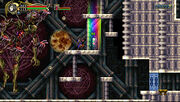 Lord of Flies is the third DLC stage of Castlevania: Harmony of Despair and the ninth stage overall and depicts stages, music, and boss from Castlevania: Symphony of the Night. The level is based on the levels Entrance, Alchemy Laboratory, and Marble Gallery. The boss is Beelzebub, which was the boss of the Necromancy Laboratory in the Reverse Castle. Music tracks are Dracula's Castle and The Horde's Festival. It was released on January 19th, 2011.
Item Data
Edit
Item Data: Chapter 9 - Lord of Flies
Image

Name

- Game
Description
Type / Users
Attributes / Consume
Statistics / Sell
Found
Notes
Hidden Item
'
Hidden Item
any 
Sell: (cannot be sold) 
Find: Chapter 9

Items First Obtained in this Chapter
Alucard's favorite sword.
Sword
Alucard 
#hands: 1

ATK +60
Sell: (cannot be sold) 
Rarity: *****
Find: Chapter 9 (Hard)
Drop: Beelzebub (Hard)

Imbues knuckles with divine rage.
Cestus
Alucard/Soma 
#hands: 1

ATK +49, HP +3

Rarity: *****
First Obtained: Chapter 9 Hard Boss

Effect: Special - Mighty Strikes (15 MP)

Calls forth the power of spite.
Hunter Skill Glyph
Shanoa 
Attrib: Thunder, Dark

Find: Purple & Boss Chapter 9 (hard)
Drop: Beelzebub

Effect: Curse

Use fangs to tear at foes.
Bullet Soul
Soma 
Consume: 12 MP 
ATK +17

Rarity: ***
Steal: Warg (4.5%)
First Obtained: Chapter 9

Throw spears.
Bullet Soul
Soma 
Consume: 10 MP 
ATK +11

Rarity: ***
Steal: Slogra (3.5 %)
First Obtained: Chapter 9

Summon flies from hell
Bullet Soul
Soma 
Consume: 15 MP 
ATK +8

Steal: Beelzebub (0.5%)
First Obtained: Chapter 9

Summon Gaibon as a familiar.
Guardian Soul (Familiar)
Soma 
Consume: 2 MP 
ATK +8

Steal: Gaibon (3.5%)
First Obtained: Chapter 9

Boots that increase running speed.
Leg (Boots)
any 
HP +5, MP +5, STR +1, DEF +1, INT +1

Rarity: *****
Drop: Beelzebub
First Obtained: Chapter 9 (Hard)

Effect: +60% movement speed

Heals you in exchange for 50MP. Can be used repeatedly.
Item (Medicine)
Yoko, Maria 
Consume: 50 MP 
First Obtained: Chapter 9 boss only

Notes: Effect increases by collecting up to 9

Poisons anyone who equips it.
Accessory
any 
Attrib: Stone +25, Curse +25, Dark +25, Poison -100

STR +6, INT +6

Rarity: ***
First Obtained: Chapter 9

A Japanese coat that increases the effect of hearts
Back (Raiment)
any 
Attrib: Blunt +10,
MP +15, DEF +5, LCK +5

Rarity: ***
First Obtained: Chapter 9 (Purple Chest & Boss, Hard)

Effect: Hearts give 7 MP (default is 5)

A Japanese coat that increases your luck
Back (Raiment)
any 
Attrib: Blunt +10,
HP +15, DEF +5, LCK +5

Rarity: ****
First Obtained: Chapter 9 (Normal)

Effect: Increases money dropped

External Links
Edit