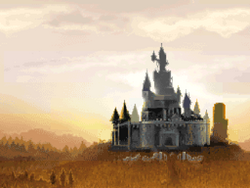 Castlevania: Portrait of Ruin like the other Castlevania games, has a castle that is divided into many areas.
Paintings
Edit
| Image | Name | Description |
| --- | --- | --- |
| | City of Haze | A Londonian city filled with monsters and a church. Dullahan acts as the portrait's guardian. |
| | Sandy Grave | A pyramid full of traps and creatures. Astarte reigns as queen here. |
| | Nation of Fools | A town and circus that defies the laws of gravity. Legion amasses here. |
| | Forest of Doom | A bizarre forest with empty, overgrown buildings and underground caves. Dagon resides there. |
| | 13th Street | A alternate, more sinister, version of the City of Haze. The Werewolf ambushes the intrepid heroes at its end. |
| | Forgotten City | A pyramid buried far underneath the ground in the desert. The Mummy Man slumbers in the central chamber. |
| | Burnt Paradise | An even more treacherous and twisted version of the Nation of Fools. Medusa awaits behind her red curtains. |
| | Dark Academy | An abandoned and dilapidated academy set in a rainy forest. The Creature was created here. |
| | Nest of Evil | A very dangerous dungeon, located in an unknown dimension. Filled with strange and unique creatures, both peculiar and vicious. At it's end lies the greatest treasure: the Greatest Five Dual Crush. |
A painting named "Lost Gallery" (where the player encounters Brauner) was never introduced in the title and the exploration rate on the map will still say 100.0% even if the room was never fully explored.
External links
Edit