Ad blocker interference detected!
Wikia is a free-to-use site that makes money from advertising. We have a modified experience for viewers using ad blockers

Wikia is not accessible if you've made further modifications. Remove the custom ad blocker rule(s) and the page will load as expected.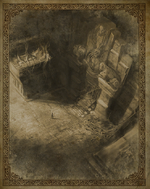 The Labyrinth Entrance is the third level of the second chapter of Castlevania: Lords of Shadow. The level's unlockable trial requires that Gabriel finishes the level after killing at least five Warthogs.

Zobek's Journal
Edit
So, he has found another of Gandolfi's upgrades? This was unforeseen, though it should prove useful in the challenges to come. The lost city of Agharta looms before him. I wonder if you know what truly lies ahead for you, Gabriel… what God has in store for you? The land of the Lycans! This ruined city now belongs to their Lord, and you can be sure he will not allow you to pass without forfeiture of your life. But in order to bring her back, you need to defeat him, my friend. You need to crush him into the dust… like the worm that he is.
Enemy Data
Edit
Enemy Data: Labyrinth Entrance
Image

Name

- Game
Description
Statistics
Items
Location
These creatures are humans that have been poisoned with an infectious disease known as the "Werewolf Influenza".(

...

)
Strong: Holy Water x2
Weak: Dagger x3, Fairy, Divine Shield, Crystal x3
Size: Medium
Difficulty: Low

Chapters 1 (bestiary in Besieged Village), 2, 3

The genealogy of these monstrous boars has been kept secret among Goblin tribes for centuries. (

...

)
Strong: Light Fairy, Holy Water x2
Weak: Dagger, Fairy, Crystal x3
Size: Big
Difficulty: Medium

Labyrinth Entrance (Chapter 2), Veros Woods (Chapter 5)

These diminutive, mischievous and crabby creatures usually avoid contact with humans. (

...

)
Strong: Holy Water x2
Weak: Dagger, Fairy, Crystal x3
Size: Small
Difficulty: Low

Chapters 1 (bestiary in The Dead Bog), 2, 5

Greater or 'pureblood' Lycanthropes are those spawned from the Dark Lord himself. (

...

)
Strong: Fairy x2, Light Fairy, Holy Water x2, Divine Shield
Weak: Dagger x3, Crystal x3
Size: Big
Difficulty: Medium

Chapters 2, 3

Item Data
Edit
Item Data: Labyrinth Entrance
Image

Name

- Game
Description
Type / Users
Attributes / Consume
Statistics / Sell
Found
Notes
(increases the amount of Fairies that can be equipped by 2)
Gabriel 
Find: Labyrinth Entrance

(Blue magical gems that can be inserted into the empty slots of a Light Gem Medallion.)
Gabriel 
Find: Chapters 2, 3, 4, 5, 6, 7, 8, 9, 10, 11

Related Locations
Edit