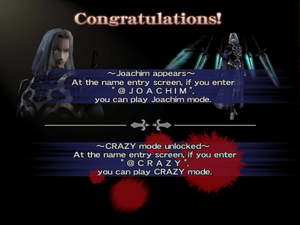 Joachim Mode is one of the two first alternate modes unlocked in Castlevania: Lament of Innocence, along with Crazy mode. In this mode, the player controls Joachim Armster.
After finishing the game as Leon, Joachim can be used as a playable character by entering @JOACHIM in the Name Entry screen.
Like the other alternate mode of several games, Joachim has no access to weapons, items or equipment, making his overall gameplay harder than Leon. However, to compensate for the lack of key items, all secret doors are already unlocked from the start.
He is only limited to using several floating Symbiotic Swords for his attacks. First of all, his attacks can reach a longer range compared to Leon. However up to five swords can only be used at a time, and the player has to wait for a few seconds to ready up the swords for the next attack. Each sword can also be "charged" by holding the square button. Charging a sword grows it in size with increased damage.
Joachim has two fighting "stances" which can be toggled using the Triangle button:
Swords circling around Joachim: Lesser damage but more hits.
Swords behind Joachim: More damage but lesser accuracy.
Joachim also has Special Attacks that consume MP, and since he does not have a Guard ability, the MP regenerates with every damage dealt to the enemy.
Several floating blocks also appear in this mode, in order to solve his lack of the Whip-Jump ability of Leon. This also applies to areas that require specific relics, like the Wolf's Foot.
Joachim is immune to the Poison and Curse status effects. Lastly, the Rosary item has been replaced with the Bloody Skull which has the same effect of instantly killing all enemies in the room.
Item Data
Edit
Item Data: Joachim Mode (edit)
Image

Name

- Game
Description
Type / Users
Attributes / Consume
Statistics / Sell
Found
Notes
Destroys all enemies on screen.
Joachim Armster 
Attack increased.
Joachim Armster 
Defense increased.
Joachim Armster 
References
Edit
Ad blocker interference detected!
Wikia is a free-to-use site that makes money from advertising. We have a modified experience for viewers using ad blockers

Wikia is not accessible if you've made further modifications. Remove the custom ad blocker rule(s) and the page will load as expected.