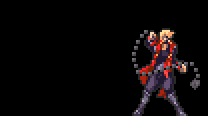 The Jet Black Whip is a whip in Castlevania: Portrait of Ruin. It is a jet black whip imbued with the power of darkness.
It is most effective when used against foes who are weak against Dark, like the Whip's Memory or the Amalaric Sniper (the only two enemies in the game that are weak against Dark-based attacks). Otherwise, this whip is notoriously weak in comparison to some of the more powerful weaponry that will more than likely be at Jonathan's disposal by the time it is acquired. In addition, most of the enemies encountered in the late stages are Dark-resistant. To somewhat compensate this drawback, the whip also inflicts Poison.
A Shadow Whip can be formed that deals additional damage in Castlevania: Lords of Shadow by activating Shadow Magic.
Item Data
Edit
Item Data: Jet Black Whip
Image

Name

- Game
Description
Type / Users
Attributes / Consume
Statistics / Sell
Found
Notes
Jet black whip imbued with the power of darkness.
Weapon (Whip)
Jonathan 
Attrib: Dark, Poison

ATK +44
Sell: $16,650 
Find: Burnt Paradise

Animations
Edit
Ad blocker interference detected!
Wikia is a free-to-use site that makes money from advertising. We have a modified experience for viewers using ad blockers

Wikia is not accessible if you've made further modifications. Remove the custom ad blocker rule(s) and the page will load as expected.