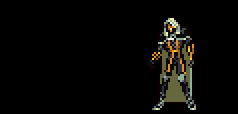 Iron Balls or Steel Balls are giant balls made out of these respective metals that can be thrown toward the enemy. They are tossed upward in an arc, but because they are very heavy, don't get very high. Their weight then crushes anything below them. They are similar to Wrecking Balls, which are connected to a chain and can be swung around the head.
Steel Ball is one of Jonathan Morris's sub-weapon skills in Castlevania: Portrait of Ruin.
Item Data
Edit
Animations
Edit
Ad blocker interference detected!
Wikia is a free-to-use site that makes money from advertising. We have a modified experience for viewers using ad blockers

Wikia is not accessible if you've made further modifications. Remove the custom ad blocker rule(s) and the page will load as expected.