Ad blocker interference detected!
Wikia is a free-to-use site that makes money from advertising. We have a modified experience for viewers using ad blockers

Wikia is not accessible if you've made further modifications. Remove the custom ad blocker rule(s) and the page will load as expected.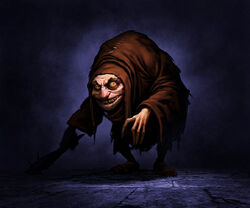 The Hunchback are a race of nomadic dwarves that settled in Dracula's Castle. They began to help rebuild the castle and expand on it for the new Lord of the Castle. They are based on the Fleamen, Rippers, and Hunchbacks in the original series.
Background
Edit
A group of nomadic dwarves settled inside the castle and began to work on its reconstruction, as if it were their own home. Apparently harmless, they have survived thanks to their cunning, teamwork, and disgusting gastranomical taste based on different ways of cooking carrion found along the way. The little hunchbacks seem intent in their work to build and expand the castle. It is not known where they come from or what drives them, but they seem to be influenced by the darkness that surrounds the new lord of the castle.[1]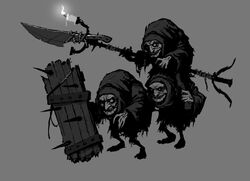 When threatened, the hunchbacks come together to form a greater force (Hunchback Troop). After drawing lots for their combat positions, they charge blindly against any creature that is hostile. For the duration of the fight, they never separate and never give up until they have a new corpse to add to the soup.
The hunchbacks managed to dominate once gentle giants by means of larvae inserted into their brains, and forced to work for them.
While relatively minor (other than Igor) but very common enemies in regular series, they have a much deeper background story in the Lords of Shadow universe discussed or shown throughout the game via several Brotherhood scrolls, the enemy bestiary, and in cutscenes.
The Hunchbacks have a cameo appearance in the Revelations DLC for Lords of Shadow 2, sawing at the large bell in the Toymaker's Guest House (a reference to their infamous encounter with Trevor Belmont in Mirror of Fate). A trophy/achievement can be unlocked for spotting them.
Their backstory is used to explain most of the changes to the castle between Lords of Shadow and Mirror of Fate.
They are similar in size and appearance to the Chupacabras, though the Chupacabras have stubbier nose, blue eyes, and wear gloves.
They are apparently the ones who constructed the scaffolding around the main tower, and are expanding on the tower.
Their identity as Dwarfs is consistent with their name in Haunted Castle, which is Dwarf.
Enemy Data
Edit
Enemy Data: Hunchbacks
Image

Name

- Game
Description
Statistics
Items
Location
A group of nomadic dwarves settled inside the castle and began to work on its reconstruction, as if it were their own home. Apparently harmless, they have survived thanks to their cunning, teamwork and disgusting gastronomical taste based on different ways of cooking carrion found along the way.
Weak: Throwing Axe, Boomerang
Difficulty: 1/5
HP: 35
Exp: 15

Drop: 5 Magic

Kitchen (+ Bestiary), Library, Guards Room, Belfry

When threatened, the hunchbacks come together to form a greater force. After drawing lots for their combat positions, they charge blindly against any creature that is hostile. For the duration of the fight, they never separate and never give up until they have a new course to add to the soup.
Weak: Boomerang
Difficulty: 2/5
HP: 240
Exp: 70

Drop: 15 Magic

Kitchen, Toy Maker's Workshop, Carousel's Engine, Guards Room; Bestiary in Clock Room

Related Scrolls
Edit
Item Data: Scrolls
Image

Name

- Game
Description
Type / Users
Attributes / Consume
Statistics / Sell
Found
Notes
Text: Waking in this dark place, I found a plate of roast meat and a glass of spiced wine beside me. I prayed that my brothers would rescue me soon. Ravaged by hunger, I grabbed the juicy leg, took a bite, chewed and swallowed hard. I hadn't taken more than two bites when I discovered, to my horror, that the bone holding the meat was a human femur.
Item
Any 
+ XP

Find: Kitchen (

all

)

Text: Those little hunchbacks seem intent in their work to build and expand the castle. I don't know where they come from or what drives them, but for some strange reason they seem to be influenced by the darkness that surrounds the new lord of the castle.
Item
Any 
+ XP

Find: Main Tower Outside (

all

)

References
Edit
↑

Scroll (Main Tower)