Ad blocker interference detected!
Wikia is a free-to-use site that makes money from advertising. We have a modified experience for viewers using ad blockers

Wikia is not accessible if you've made further modifications. Remove the custom ad blocker rule(s) and the page will load as expected.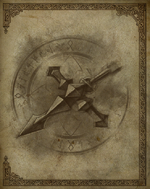 The Hook Tip is the first enhancement found for Gabriel's Combat Cross in Castlevania: Lords of Shadow. It is an articulated metal tip that can used to grip objects and enemies from a great distance. Several new skills are unlocked or can be purchased with Skill Points once this item has been found. All Combat Chains in Castlevania: Lords of Shadow - Mirror of Fate appear to have a Hook Tip pre-equipped on them which does not need to be found.

Item Data
Edit
Item Data: Hook Tip
Image

Name

- Game
Description
Type / Users
Attributes / Consume
Statistics / Sell
Found
Notes
The articulated metal tip can be used to grip objects and enemies from a great distance. (

...

)
Gabriel 
Find: The Dead Bog

You can navigate vertical surfaces using the Combat Cross. Press [Interact] to interact with a shining Grip Point and then use the left stick to move. Pressing [Direct Attack] or [Area Attack] will kick away from the surface and pressing [Jump] will let go from the Grip and allow you to jump away.
Skill (Basic Action)
Gabriel 
First Obtained: Once Hook Tip acquired.

Sequence: [Interact]

Press the [Grab] button while airborne to grab an enemy and pull them into the air. Combine this with further aerial attacks to extend the combo. This attack only works on smaller enemies.
Skill (Advanced Move)
Gabriel 
Buy: 200 SP (once Hook Tip acquired) 
Sequence: [Grab] (while in the air near a small enemy on the ground)

Press the [Grab] button while airborne to grab an enemy and launch into them with a downward kick. This attack only works on larger enemies.
Skill (Advanced Move)
Gabriel 
Buy: 200 SP (once Hook Tip acquired) 
Sequence: [Grab] (while in the air near a large enemy on the ground)