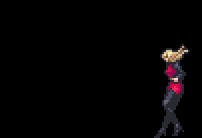 Holy Flame
is a particularly fast
flame spell
that can be performed by members of the
Belnades Clan
. It first appeared in
Castlevania III: Dracula's Curse
(called simply
Flames
) as one of
Sypha Belnades
'
magic spells
. A quick, long and damaging burst of flame is cast in front of her.
Yoko Belnades is able to perform Holy Flames in Dawn of Sorrow and Harmony of Despair. It has both the Fire and Holy attributes.
Item Data
Edit
Item Data: Holy Flame
Image

Name

- Game
Description
Type / Users
Attributes / Consume
Statistics / Sell
Found
Notes
The flames are very powerful as they annihilate everything in its path.
Warakiya War Items
Sypha Belnades 
Blast enemies with fire.
Spell
Yoko 
Attrib: Fire, Holy
Consume:

8

MP 
ATK +

10



Rarity: ***
First Obtained: (start with)

Ad blocker interference detected!
Wikia is a free-to-use site that makes money from advertising. We have a modified experience for viewers using ad blockers

Wikia is not accessible if you've made further modifications. Remove the custom ad blocker rule(s) and the page will load as expected.