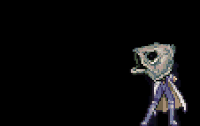 Soma Cruz is able to throw a giant Fish Head in Castlevania: Dawn of Sorrow and Castlevania: Harmony of Despair by utilising its captured soul. It is not thrown very high or very far compared to most other projectiles.
Item Data
Edit
Item Data: Head Throw
Image

Name

- Game
Description
Type / Users
Attributes / Consume
Statistics / Sell
Found
Notes
Throw Fish Head's head.
Bullet Soul
Soma 
Consume: 10 MP 
ATK +11

Rarity: ***
Steal: Fish Head (2.5%)
First Obtained: Chapter 8

Animations
Edit
Ad blocker interference detected!
Wikia is a free-to-use site that makes money from advertising. We have a modified experience for viewers using ad blockers

Wikia is not accessible if you've made further modifications. Remove the custom ad blocker rule(s) and the page will load as expected.