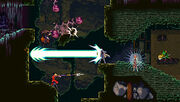 The One Who Is Many is the second DLC stage of Castlevania: Harmony of Despair and the eighth stage overall. The level takes place in an amalgamation of the underground levels of Symphony of the Night and the boss is Legion.
The background music is "Lost Painting" and the boss theme is "Poetic Death", both from Symphony of the Night. It was released on January 12th, 2011.
Hidden item
Edit
The hidden item of Chapter 8 is Lucky Cat. Japanese Maneki Neko.
Item Data
Edit
Item Data: Chapter 8 - The One Who is Many
Image

Name

- Game
Description
Type / Users
Attributes / Consume
Statistics / Sell
Found
Notes
Hidden Item
5000 pts.
Hidden Item
any 
Sell: (cannot be sold) 
Find: Chapter 8

Items First Obtained in this Chapter
Unleash an energy sphere.
Hunter Skill Glyph
Shanoa 
Attrib: Strike
Consume: 12 MP 
ATK +8

Rarity: ***
Find: Purple chests
(Chapter 8 Hard)
Drop: Legion
First Obtained: Chapter 8

Set fires.
Bullet Soul
Soma 
Attrib: Fire
Consume: 5 MP 
ATK +6

Rarity: ***
Steal: Ukoback (3.0%)
First Obtained: Chapter 8

Throw Fish Head's head.
Bullet Soul
Soma 
Consume: 10 MP 
ATK +11

Rarity: ***
Steal: Fish Head (2.5%)
First Obtained: Chapter 8

Launch torpedoes in water.
Bullet Soul
Soma 
Consume: 5 MP 
ATK +20

Rarity: ***
Steal: Killer Fish (4.5%)
First Obtained: Chapter 8

Fire a beam at enemies.
Bullet Soul
Soma 
Attrib: Holy
Consume: 20 MP 
ATK +13

Rarity: ***
Steal: Legion (0.5%)
First Obtained: Chapter 8

Occasionally blocks attacks.
Head (Helmet)

DEF +5
Sell: Cannot be sold 
Find: Purple Chest (Hard)
First Obtained: Chapter 8

Effect: +10% chance to negate damage

Boots that enhance sliding ability.
Leg (Boots)
any 
DEF +5

Rarity: ****
Find: Chapter 8 (Normal)
Drop: Legion

Effect: Slide even farther than Slick Boots

Cloak passed down through generations of Belmonts.
Back (Cloak)
Jonathan, Julius, Richter, Simon 
Attrib: Fire +15, Ice +15, Lightning +15

HP +50, DEF +8, STR +3, MND +3

Rarity: *****
First Obtained: Chapter 8 (Hard)

Improves status from sunset until sunrise.
Accessory (Ring)
any 
Day: DEF +1; Night: STR +6, DEF +5, CON +4, INT +4, MND +4

Rarity: ***
First Obtained: Chapter 8

Effect: Wear between 6 PM and 6 AM.

Improves status from sunrise until sunset.
Accessory (Ring)
any 
Night: DEF +1; Day: STR +6, DEF +5, CON +4, INT +4, MND +4

Rarity: ***
First Obtained: Chapter 8

Effect: Wear between 6 AM and 6 PM.

Other Items Obtained in this Chapter
Launch cutting shards of ice.
Bound Spell
Charlotte 
Consume: 15 MP 
ATK +6

Rarity: ****
Bind: Frozen Shade
First Obtained: Chapter 2

Shoot pillars of ice.
Bullet Soul
Soma 
Attrib: Ice
Consume: 15 MP 
ATK +6

Rarity: **
Steal: Frozen Shade (2.8%)