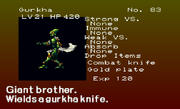 The Gurkha Master is the Giant Brother who wields a Gurkha, sometimes called a Khukri. It either attacks by throwing the knife, which returns like a boomerang, or lunging with the blade extended. It may be related to the Boomerang Armor, which uses the same palette and throws shuriken-like boomerangs, from Castlevania: Harmony of Dissonance.
Enemy Data
Edit
Enemy Data: Gurkha Master
Image

Name

- Game
Description
Statistics
Items
Location
Giant brother. Wields a gurkha knife.
Level: 21
HP: 420
Exp: 120

Drop: Combat Knife, Gold Plate

Black Marble Gallery, Entrance

An armored warrior with a knife of the same name.
Strong: Flame
Weak: Strike, Thunder
HP: 240
Exp: 200
Skill Pt: 3
Atk: 63

Drop: Iron Leggings (3%)

Underground Labyrinth, Barracks, Arms Depot, Mechanical Tower

An armored warrior with a knife of the same name.
Strong: Ice
Weak: Strike, Lightning

Drop: Boomerang (6.30%)
Soul: Red (2.80%)

Chapter 1 - Hard, 5, 6

Item Data
Edit
Ad blocker interference detected!
Wikia is a free-to-use site that makes money from advertising. We have a modified experience for viewers using ad blockers

Wikia is not accessible if you've made further modifications. Remove the custom ad blocker rule(s) and the page will load as expected.