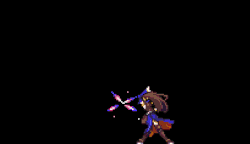 Globus is a glyph with the striking attribute. In Castlevania: Order of Ecclesia, it produces twin spheres of pink energy which can bounce against walls. The glyph can be absorbed from either Barlowe in Ecclesia during his boss battle, or from a Demon Lord in the Large Cavern after reaching the second room. Globus is very effective when fighting against Blackmore in the Underground Labyrinth, as Blackmore is fought in a very confined space, where the energy spheres have the possibility to bounce repeatedly and hit him many times due to his large size. In Harmony of Despair, it can first be obtained in the DLC stage 8, The One Who Is Many.
Item Data
Edit
Ad blocker interference detected!
Wikia is a free-to-use site that makes money from advertising. We have a modified experience for viewers using ad blockers

Wikia is not accessible if you've made further modifications. Remove the custom ad blocker rule(s) and the page will load as expected.