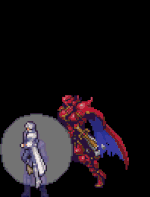 "Uses legs to propel Hector long distances. Allows access to places a normal jump cannot reach."
— Description (Curse of Darkness)
Glide (also known as Levitation) is the ability to reduce the speed of falling. This is usually accomplished with the help of a being who can fly and is often used to reach the tops of distant high up ledges which are lower than the height you can jump from. An upgraded ability in Castlevania: Curse of Darkness named Long Glide allows for an extended flight duration.
Game specific information
Edit
This ability was first introduced into the series in Aria of Sorrow and is gained by acquiring the soul of a Flying Armor. However, as this enemy doesn't actually appear in the game, the soul instead has to be obtained by breaking a candelabra located in the lower paths of the Castle Corridor. It's usually the first guardian soul obtained in the game and will allow Soma to reach a far ledge, near where a statue of the Angel of Death is.
Again, this soul has to be obtained from a Flying Armor, but this time Soma will have to fight for it as he is the first boss in the game. The Flying Armor can be encountered once Soma has escorted Yoko near her study in the Lost Village; it is also here where he'll have to successfully use a magic seal for the first time in order to finish off the monster and acquire his soul.

Hector is able to use this ability with any Bird-Type innocent devil in Curse of Darkness. By evolving a Crow into a Skull Wing, and then into a Wingosaurus, the bird-type will also be able to gain the Long Glide ability, enabling it to carry Hector over extremely distant places, most notably to reach the Tower of Evermore from the top of the Tower of Eternity. Costs 0 MP to cast.
Maria is able to perform this move with help of her owl (following a high jump) in the Dracula X Chronicles version of Castlevania: Symphony of the Night.
Item Data
Edit
Item Data: Glide
Image

Name

- Game
Description
Type / Users
Attributes / Consume
Statistics / Sell
Found
Notes
Falling speed slows down and jump distance increases.
Guardian Soul
Soma 
Consume: 5 MP/sec 
Find: Castle Corridor

Reduce the speed of falling.
Guardian Soul
Soma 
Consume: 5 MP/sec 
Rarity: Always get the soul.
Drop: Flying Armor

Uses legs to propel Hector long distances. Allows access to places a normal jump cannot reach.
Innocent Devil Abilities
Crow 
Consume: 0 Hearts 
First Obtained: Innate ability

Effect: Carries Hector over gaps.

Uses legs to propel Hector long distances. Allows access to places a normal jump cannot reach.
Innocent Devil Abilities
Wingosaurus 
Consume: 0 Hearts 
First Obtained: Enemy defeats

Effect: Carries Hector over gaps.
Special: Allows access to the Tower of Eternity.

'
Action
Maria (DXC only) 
Sequence: Hold [Jump] after a High Jump

Screenshots
Edit
Animations
Edit