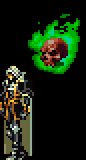 The Ghost Familiar is a recurring familiar in the Castlevania series.
Game specific information
Edit
As one of Alucard's five Familiars, the Ghost resembles a miniature Phantom Skull. It will hover over nearby enemies and damage them with magic. As it increases in levels it will begin to attack faster and, once the Ghost familiar is at least level 70, its attacks will heal Alucard for 8 HP per attack. If Alucard morphs into his bat form the Ghost familiar will look around, form three "?" above its head and will leave the screen and no longer assist you. Turning Alucard back to normal or into the mist or wolf form will have the Ghost return.
A Ghost Familiar resembling the top half of a small skeletal dragon floats near Nathan, attacking nearby foes one at a time, when combining the Saturn + Serpent DSS cards.
The Summon Ghost summons a Ghost. It behaves similarly to a Ghost Familiar by hovering near an enemy, causing continuous damage, but leaves the area after 30 seconds after summoning. When fully charged, two ghosts are summoned, which leave after about a minute.
Soma Cruz is able to summon a Ghost familiar in Harmony of Despair by using a Ghost's soul. Alucard, however, is not.
Item Data
Edit
Item Data: Ghost Familiar
Image

Name

- Game
Description
Type / Users
Attributes / Consume
Statistics / Sell
Found
Notes
Summons "Ghost" Familiar
Relic (Familiar)
Alucard 
Find: Castle Keep

A ghost familiar appears. Will head toward enemies.
DSS Effect
Nathan 
Consume: 4 MP/Attack 
Create: Saturn Card + Serpent Card

Effect: Summons a ghost that follows enemies around. It causes minor damage very quickly, but requires MP per hit, causing very quick MP drain.

Summon a Ghost to use in battle.
Magic Spell
Charlotte 
Attrib: Dark
Consume: 40 MP 
Base Attack: 4/8 (Half/full charge)

Drop: Ghost

Effect: A ghost hovers around and flies at enemies. It lasts for around 30 seconds. Can hit multiple times.
Special: Fully charged: Two ghosts hover around enemies. They last for around a minute.

Summon a Ghost as a familiar.
Guardian Soul (Familiar)
Soma 
Consume: 2 MP 
ATK +4

Rarity: **
Steal: Ghost (2.8%)

Summon an 8-bit ghost as a familiar.
Guardian Soul (Familiar)
Soma 
Consume: 6 MP 
ATK +2

Steal: R. Ghost (5.5%)
First Obtained: Chapter 10

Animations
Edit
Ad blocker interference detected!
Wikia is a free-to-use site that makes money from advertising. We have a modified experience for viewers using ad blockers

Wikia is not accessible if you've made further modifications. Remove the custom ad blocker rule(s) and the page will load as expected.