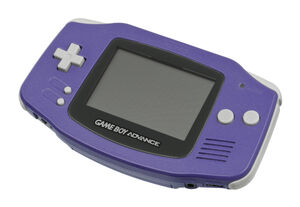 The Game Boy Advance (often abbreviated as GBA) is a handheld video game console developed, manufactured and marketed by Nintendo. It is one of the latest in the Game Boy series of consoles, and the successor to the popular Game Boy Color. It was released in Japan on March 21st, 2001; in North America on June 11th, 2001; in Europe on June 22nd, 2001; and in China on June 8th, 2004 (excluding Hong Kong). Its codename during development was "Project Atlantis".
Games available
Edit
Ad blocker interference detected!
Wikia is a free-to-use site that makes money from advertising. We have a modified experience for viewers using ad blockers

Wikia is not accessible if you've made further modifications. Remove the custom ad blocker rule(s) and the page will load as expected.