Forbidden Area
Talk

0
4,021pages on
this wiki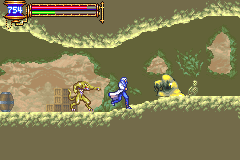 The only area thought to be difficult to access in Aria of Sorrow, so hence the name "Forbidden Area". It is bordered by the
Underground Reservoir
and the
Study
. The trick to find the area is to find the waterfall in the Underground Reservoir and equip the
Undine
soul then either the
Curly
,
Manticore
or
Devil
soul to dash through the waterfall. The player will receive the
Eversing
along the way. On the other side is the door leading to the area. As for the Study, go to the uppermost room in the Forbidden Area to find a switch. Step on the switch to lower down the gate that blocks the passage between the two places. The area also has treasure chests which give off thousands of gold.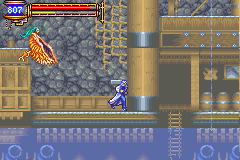 These enemies can be found here:
Alura Une
,
Harpy
,
Killer Fish
,
Flame Demon
,
Mimic
,
Gargoyle
,
Mudman
,
Dryad
,
Cagnazzo
and
Poison Worm
.
The area has no boss. Two items, the valuable Joyeuse and the most useful weapon in the game, the Claimh Solais, can be found in this area.