Flaming Skeleton Warrior
Japanese name
GENERAL INFORMATION
Appears in
Lords of Shadow
Number
Location
Chapter 14

STATISTICS
Health Points
Experience Points
Attack
Abilities
Skill Points
EFFECTS
Tolerances
Weaknesses
Timestop
ITEMS
Drops
Steal
Soul
Flaming Skeleton Warriors are enemies in Castlevania: Lords of Shadow downloadable content Resurrection.
Description
Edit
As their name indicates, flaming skeletons are skeleton warriors that have their bodies consumed by flames. An explanation could be because of the higher temperatures from the underworld.
What makes these skeletons different from their relatives from the upper world, is that these enemies are more aggressive and better armored. Their bones and weapons are constantly burning and they set ablaze the ground and whatever is in the path of their charge attack.
Enemy Data
Edit
Enemy Data: Flaming Skeleton Warrior
Image

Name

- Game
Description
Statistics
Items
Location
'
Size: Medium

Chapter 14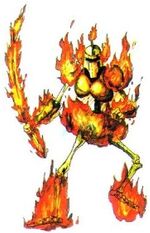 Ad blocker interference detected!
Wikia is a free-to-use site that makes money from advertising. We have a modified experience for viewers using ad blockers

Wikia is not accessible if you've made further modifications. Remove the custom ad blocker rule(s) and the page will load as expected.