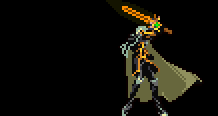 The Flamberge is the second two-handed Great Sword found in Castlevania: Symphony of the Night, and the second one to feature the thrusting ability (←, →, ATTACK) after the weaker Claymore.
Despite its description, the Flamberge does not deal out Fire damage. It is usually outclassed by the Sword of Dawn or the Zwei Hander.
Item Data
Edit
Animations
Edit
Ad blocker interference detected!
Wikia is a free-to-use site that makes money from advertising. We have a modified experience for viewers using ad blockers

Wikia is not accessible if you've made further modifications. Remove the custom ad blocker rule(s) and the page will load as expected.