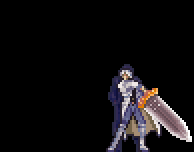 The Final Sword is a sword taken from a Final Guard. It is generally a very large, heavy, slow, and powerful weapon. It has long reach, and if used right, can be a very deadly sword.
In Castlevania: Aria of Sorrow, the Final Sword is one of the swords with so short hit interval (the third shortest hit interval) which if it's timed correctly, it can easily hit an enemy twice per swing.
The Alastor enemies from Aria of Sorrow, Dawn of Sorrow, and Portrait of Ruin wield these swords with broken tips.
Item Data
Edit
Item Data: Final Sword
Image

Name

- Game
Description
Type / Users
Attributes / Consume
Statistics / Sell
Found
Notes
Sword carried by the Final Guard.
Weapon
Soma 
Attrib: Sword

ATK +108
Sell: $49,500 
Rare Drop: Final Guard

A sword taken from a Final Guard
Great Sword
Soma 
Attrib: Slash

ATK +110
Sell: $36,000 
Find: Yoko's Shop
Create: Balmung + Final Guard Soul

Effect: Overhead Dash
Evolve: + Alastor Soul >> Claimh Solais

A demon-slaying sword once wielded by an angel.
Weapon (Great Sword)
Jonathan 
Attrib: Slash

ATK +120
Sell: $13,750 
Drop: Final Guard

Blade favored by the Final Guards.
Greatsword
Soma 
#hands: 2

ATK +38
Sell: (cannot be sold) 
Rarity: ****

Effect: Special - Quick hit (15 MP)

Animations
Edit