Ad blocker interference detected!
Wikia is a free-to-use site that makes money from advertising. We have a modified experience for viewers using ad blockers

Wikia is not accessible if you've made further modifications. Remove the custom ad blocker rule(s) and the page will load as expected.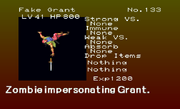 Fake Grant appears in Castlevania: Symphony of the Night as one of a trio of bosses in the Reverse Colosseum area, and also in Portrait of Ruin as part of the same trio in the Nest of Evil. He'll be teamed up with Fake Trevor and Fake Sypha, but unlike Trevor, he won't be resurrected by Sypha if she's still alive when killed. Being a pirate character, he wields knives as weapons and crawls around on the ceiling of the arena.
He only has two attacks. The first being that he throws down a knife if directly over the player. The second being that he'll wield a knife and jump off the ceiling, striking the player. If struck by any attack, he'll fall off the ceiling, remain stunned on the ground for several seconds and then jump right back up there. When defeated, he can occasionally drop a bowl of Ramen Noodles in Portrait of Ruin.
Enemy Data
Edit
Enemy Data: Fake Grant
Image

Name

- Game
Description
Statistics
Items
Location
Zombie impersonating Grant.
Level: 41
HP: 800
Exp: 1,200

Reverse Colosseum

A zombie disguised as Grant Danasty.
Weak: Slash
HP: 3,800
Exp: 3,000
Skill Pt: 60

Drop: Ramen Noodles

Nest of Evil

Item Data
Edit
Item Data: Fake Grant
Image

Name

- Game
Description
Type / Users
Attributes / Consume
Statistics / Sell
Found
Notes
Ramen noodles in a flavorful pork broth.
Item (Food)
Jonathan, Charlotte 
HP +300
Sell: $200 
Drop: Fake Grant