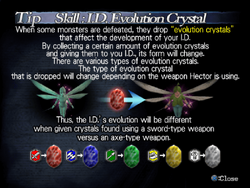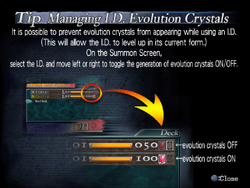 Evo Crystals (abbreviation for Evolution Crystals, or more properly I.D. Evolution Crystals), are colored crystals needed to evolve Innocent Devils. This gameplay mechanic has only appeared in Castlevania: Curse of Darkness and it's a way to represent in physical form experience gained from defeating enemies. It's also used to differentiate the experience an Innocent Devil gains toward changing to its next evolutionary state from normal experience gained toward reaching its next level, which affects its stats. They drop from all enemies, excluding bosses. The color of a crystal corresponds to the color of the weapon type Hector is currently wielding.
A certain number of Evo Crystals are needed to evolve an Innocent Devil into its next form, which can be viewed on that devil's file. Also, a certain weapon type must be used for different evolutions, and in some cases a specific weapon, such as Death's Scythe, Short Sword or Chauve-souris, must be used. The player can toggle whether or not the Innocent Devil absorbs the crystals (crystals will just stop appearing). This is useful if the player wants to concentrate on leveling up an Innocent Devil in its current form. After an I.D. evolves, the count of Evo Crystals will be reset.
The number of Evo Crystals needed to reach the next evolution are not restricted to only one color. In fact, the number Evo Crystals of different colors for a specific branch are cumulative. This can be seen on the I.D. Chart, wherein one evolution can be reached by different Evo Crystals.
For example, if the Golem takes 90 Sword / Spear / Axe/ Knuckle Evo Crystals in order to become a Juggernaut, this does not only mean that the player must collect 90 Evo Crystals of a specific weapon type to reach the evolution. Even 30 Red / 30 Blue / 30 Yellow Evo Crystals are sufficient to do so.
When an enemy is slain, it may drop one, two or even three crystals at once. Hector must then hurry and collect them in order to be transferred to his Innocent Devil. Collection of these crystals will only be registered after an Innocent Devil has absorbed them (once Hector collects one, the essence of the crystal will slowly travel from the spot Hector's currently standing to where the Innocent Devil is in the same room). An exception to this rule takes place when an Innocent Devil only needs one more crystal to evolve to its next form. In this case, as soon as Hector collects the crystal, the I.D. will evolve.
Item Data
Edit
Ad blocker interference detected!
Wikia is a free-to-use site that makes money from advertising. We have a modified experience for viewers using ad blockers

Wikia is not accessible if you've made further modifications. Remove the custom ad blocker rule(s) and the page will load as expected.