Ad blocker interference detected!
Wikia is a free-to-use site that makes money from advertising. We have a modified experience for viewers using ad blockers

Wikia is not accessible if you've made further modifications. Remove the custom ad blocker rule(s) and the page will load as expected.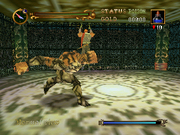 The Duel Tower is a stage in Castlevania (Nintendo 64), one of the few levels in which only Reinhardt Schneider can access.
Though a tower, the structure of the level is different in that the flow differs from other tower-like stages. The path the player travels on takes him higher and higher, thought it doesn't really feel that way. The stage itself is also rather straight-forward and a touch non-descript, save for the majority of the stage, which contain various caged-in fights with monsters, the "duels".
In these duels, a metal cage is dropped and the ceiling begins to slowly descend. If Reinhardt is successful in killing the monster inside, he can escape and continue "climbing" the tower. If he is not, he will either be killed by the monster or the crushing ceiling.
In between the battles, Reinhardt must climb the tower on the multiple platforms that appear between the cages, thought this is a precarious climb, as the platforms are above a very high drop to a pit of acidic liquid below, and swinging, spiked arms can knock him around, possibly even off the platform.
Once Reinhardt reaches the top, he can escape the tower and end the level.
Enemy Data (Castlevania 64)
Edit
Enemy Data: Castlevania 64
Image

Name

- Game
Description
Statistics
Items
Location
'
HP: 1

Castle Wall, Tunnel, Underground Waterway, Castle Center, Duel Tower, Tower of Execution, Clock Tower

'
HP: 130

Duel Tower

'
HP: 120

Duel Tower

'
HP: 240

Duel Tower

'
HP: 100

Duel Tower

Enemy Data (Legacy of Darkness)
Edit
Enemy Data: Legacy of Darkness
Image

Name

- Game
Description
Statistics
Items
Location
A half-man, half-lizard sub-human species found in the watercourses at the very bottom of Dracula's castle, Lizard Men tend to move around in groups, and are skilled at hunting in packs. They are relatively intelligent, and are armed with battle axes and shields.
Foggy Lake, Forest, Castle Center, Underground Waterway, Duel Tower, Tower of Execution





HP: 30 (5 or 10 for gray or pentagram shields)

Drop: Usually Red Jewel, Gold, or Power-Up, frequently Attack Item

Underground Waterway

'
HP: 40

Drop: Usually Gold, Red Jewel, or Power-Up; Frequently Knife

Castle Center (inert), Art Tower (inert), Duel Tower, Tower of Execution

'
HP: 40

Drop: Usually Gold, Red Jewel, or Power-Up; Frequently Knife

Castle Center (inert), Art Tower (inert), Tower of Ruins, Duel Tower

'
HP: 130 (195 on Hard)

Duel Tower

'
HP: 60

Duel Tower

'
HP: 130 (195 on Hard)

Duel Tower

'
HP: 250 (325 on Hard)

Duel Tower (Cornell)

'
HP: 90 (67.5 on Easy, 135 on Hard)

Duel Tower (Reinhardt-only)

Related Stages
Edit