Ad blocker interference detected!
Wikia is a free-to-use site that makes money from advertising. We have a modified experience for viewers using ad blockers

Wikia is not accessible if you've made further modifications. Remove the custom ad blocker rule(s) and the page will load as expected.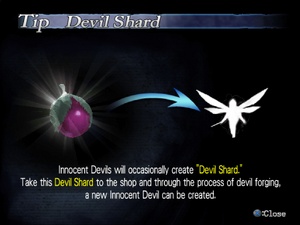 Innocent Devils will occasionally create egg-like items called Devil Shards. They can create new Level 1 Innocent Devils with the aid of Julia, through the process of devil forging at her shop. Those Innocent Devils will have higher stats compared to their "parents", being a new generation. The higher the generation, the higher will be the base stats of the newborn Innocent Devil at Level 1.
The appearance of a Devil Shard is based on the Level 1 Stage, depending on the type of the Innocent Devil that created the shard.
Item Data
Edit
Item Data: Devil Shard
Image

Name

- Game
Description
Type / Users
Attributes / Consume
Statistics / Sell
Found
Notes
By devil forging this devil shard, you will be able to create a battle-type Innocent Devil.
Devil Shard
Hector 
Created By: Battle-Type

By devil forging this devil shard, you will be able to create a bird-type Innocent Devil.
Devil Shard
Hector 
Created By: Bird-Type

By devil forging this devil shard, you will be able to create a devil-type Innocent Devil.
Devil Shard
Hector 
Created By: Devil-Type

By devil forging this devil shard, you will be able to create a fairy-type Innocent Devil.
Devil Shard
Hector 
Created By: Fairy-Type

By devil forging this devil shard, you will be able to create a mage-type Innocent Devil.
Devil Shard
Hector 
Created By: Mage-Type

By devil forging this devil shard, you will be able to create a pumpkin-type Innocent Devil.
Devil Shard
Hector 
Created By: Pumpkin-Type