Ad blocker interference detected!
Wikia is a free-to-use site that makes money from advertising. We have a modified experience for viewers using ad blockers

Wikia is not accessible if you've made further modifications. Remove the custom ad blocker rule(s) and the page will load as expected.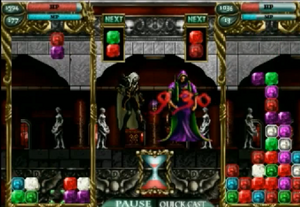 The Demon Corridor is a final stretch in Castlevania Puzzle: Encore of the Night that includes a series of boss battles that lead to Dracula, replacing the Reverse Castle. With one exception, the first five bosses are the same bosses that held Dracula's Relics in Castlevania: Symphony of the Night, which are also the bosses from the original Castlevania game. Beelzebub must be fought instead of Akmodan II, who does not appear in this game. This leads up to the encounter with Shaft and ultimately Dracula.
Enemy Data
Edit
Enemy Data: Demon Corridor
Image

Name

- Game
Description
Statistics
Items
Location
Early Bosses
''Abil: ???

HP: 2200
Exp: +1 level

Steal: ~88 silver

Demon Corridor

''Abil: ???

HP: 2450
Exp: +1 level

Steal: ~1 gold, 8 silver

Demon Corridor

''Abil: ???

HP: 2750
Exp: +1 level

Steal: ~1 gold, 82 silver

Demon Corridor

''Abil: ???

HP: 3550
Exp: +1 level

Steal: ~1 gold, 88 silver

Demon Corridor

''Abil: Sickle - Does 4 damage times the height of blocks on the player's board.

HP: 3200
Exp: +1 level

Steal: ~2 gold, 47 silver, 50 copper

Demon Corridor

''Abil: Reduces damage done to the opponent from spells and abilities by 50% for 10 seconds.

HP: 3100
Exp: +1 level

Demon Corridor

Final Boss
''Abil: Dark Presence - For the next 20 seconds, a random block on the player's board is destroyed every 5 seconds. The player takes 50 damage per block destroyed.

HP: 3800

Demon Corridor