Ad blocker interference detected!
Wikia is a free-to-use site that makes money from advertising. We have a modified experience for viewers using ad blockers

Wikia is not accessible if you've made further modifications. Remove the custom ad blocker rule(s) and the page will load as expected.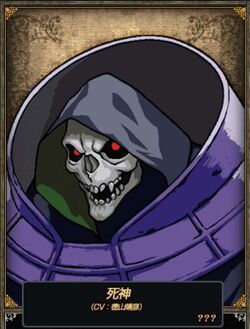 Death greets Jonathan and Charlotte after they enter the Great Stairway inside the castle in Castlevania: Portrait of Ruin. He makes his first battle with Jonathan and Charlotte in Tower of Death but defeated and flees away. He later kills Brauner in the Lost Gallery and revives Dracula; stands with him in the Throne Room, and finally lets his master consume his soul when he defeated again.
In the English version of the game, Death is voiced by Tom Wyner.
Dialogue Data: Death (edit)
Image / Participants
Transcript
Information
Jonathan

Charlotte Death

Dracula's Eternal Servant
Jonathan: !!


Death: I thought you would appear. The one who imposes upon my master.
Charlotte: He's swirling with black magic. I've read about him. Dracula's eternal servant... Death.
Jonathan: Dracula isn't this castle's master anymore! Why are you here?
Death: My, what an odd thing to say. This castle belongs to Lord Dracula. To him and no one else.
Charlotte: I get it. You've joined forces with Brauner because you're thinking of resurrecting Dracula, aren't you?
Death: Brauner... Who are you talking about?
Jonathan: There's no point in playing dumb! We already know the current master of this castle is a vampire by the name of Brauner!
Death: Vampire Brauner... Even with my power, I didn't sense that. It seems I have been dormant for far too long.
Jonathan: Don't tell me you didn't know. Well, it doesn't matter. You're connected to Dracula. That makes you my enemy!
Death: Ha! You're no match for me! Your father was much stronger than you. And now he's dead!
Jonathan: (angrily) Don't compare me to my father!!
Charlotte: Calm down, Jonathan! You can't beat him without a strategy!
Death: Oh, and to think he needs a little child to admonish him!
(Death takes his leave with laughter)
Charlotte: !!
Jonathan: Sorry, Charlotte. Whenever someone mentions my father, I just lose it.
Charlotte: That's all right. It's not like you started hating your father just now. But What's the point in getting angry at someone who isn't even here?
Jonathan: It's because he's not here. Listen, My father only taught me the basics of fighting. Then he went and got himself killed, leaving me the heir to the whip! This whip I can't even use. He was always so selfish.
Charlotte: There must have been a reason. You have to understand the truth of why you've had to fight until now without the whip's power.
Jonathan: Maybe so... But now Dracula may be reviving, and I can't even use the power that I'm meant to use! Even though my father could.
Charlotte: That's true, but...
Jonathan: Enough with all this talk about my father. Talking won't change a thing. C'mon, let's go. When Death makes an appearance, Dracula can't be far away.


Charlotte: Yeah, you're right.

Video:


07:59

Castlevania Portrait of Ruin Walkthrough (Great Stairway & Keremit Pt. 6)



Game: Castlevania: Portrait of Ruin
Location: Great Stairway
When: First Encounter with Death

Jonathan

Charlotte Death

Showdown with Death
Death: That look you have... I'm assuring you've run into Brauner.


Jonathan: That's none of your business! You won't escape this time!
Death: You do realize there's no connection between myself and Brauner, don't you? And yet you still challenge me?
Charlotte: If my research is correct, you have a strong desire to see Dracula revived, correct?
Jonathan: Even if you're not working with Brauner, you still have to be defeated!


Death: Challenging me even though you can't use the whip... How utterly absurd. But I'll play with you anyway.

Video:


09:22

Castlevania Portrait of Ruin Walkthrough (Death & The Master's Keep Pt. 18)



Game: Castlevania: Portrait of Ruin
Location: Tower of Death (Clock Room)
When: First Encounter with Death

Jonathan

Charlotte Death

Defeating Death
Death: Ugh! How can someone like YOU possess such amazing powers?!


Jonathan: I may not have the whip's power, but I can still kick your ass!
Death: Hmph, I underestimated you... Still, I have my reasons for holding back...
Charlotte: Is that your excuse? How typical. Now resign yourself to your fate!
Death: Know the limits of your power. You still have a task to perform, so for now I shall take my leave.
(Death leaves and says, "We'll meet again!")
Jonathan: Damn it! He ran away.
Charlotte: Say, what do you suppose Death meant when he said we still have a task to perform?
Jonathan: (smiles) Forget it. We can take on anyone. No problem!
Charlotte: How can you always be so confident?
Jonathan: I like to think positive, that's all. Look, stop worrying so much and focus on what we have to do: Defeat Death and Brauner, got it?
Charlotte: Okay, okay. Worrying only makes things worse than they really are, right?


Jonathan: You got it.

Video:


09:22

Castlevania Portrait of Ruin Walkthrough (Death & The Master's Keep Pt. 18)



Game: Castlevania: Portrait of Ruin
Location: Tower of Death (Clock Room)
When: After defeating Death

Jonathan

Brauner Death

Death of Brauner
Brauner: Damn you, humans... You selfishly start wars and despoil the earth... Perhaps justice wasn't on my side but I will never admit that it was on yours.


Jonathan: Fine either way. After all, "justice" is just a matter of perspective. The fact is, you're just a coward who couldn't face the truth. You couldn't accept your fate, so you just abandoned humanity to get what you wanted.
Brauner: I just... I just wanted to protect my family.
(Death suddenly shows up above the room and finishes off Brauner with a single slash of his scythe)
Death: Ha-ha-ha-ha-ha!
Brauner: (SCREAMS)
Jonathan: !!
Death: Well done! Now the interloper is no more!
Jonathan: What?
Death: The studio painting was cutting off the throne needed to revive Lord Dracula. A clever plan. Alas, now my lord can be revived! Ha-ha-ha-ha-ha!


(Death leaves the room)

Video:


08:27

Castlevania Portrait of Ruin Walkthrough (Brauner & The Lord of Darkness Revived Pt. 30)



Game: Castlevania: Portrait of Ruin
Location: Lost Gallery
When: After defeating Brauner

Jonathan
Final Battle with Dracula and Death
Jonathan: Dracula...


Charlotte: I can't believe this power. No wonder he's called the Lord of Darkness!
Dracula: ...
Jonathan: Oh, so you're ignoring me? Turn and face me!
(Jonathan rushes toward Dracula, but Death suddenly appears fending his attack)
Death: You will not touch Lord Dracula! This time, let's fight for real!
(Dracula throws his wine glass to the floor)
Dracula: Enough with this sideshow. Why don't we show him our combined power?
Charlotte: ?! A Death and Dracula joint attack? That was never mentioned in any book I've read!


Jonathan: Well, there's two of us. So I guess that makes it even. No problem, bring it on!

Video:


11:01

Castlevania Portrait of Ruin Walkthrough (Dracula, The Lord of Darkness & Death Pt. 33)



Game: Castlevania: Portrait of Ruin
Location: The Throne Room
When: Final Battle with Dracula and Death

Enemy Data
Edit