'Castlevania: Lords of Shadow' - Stage 11 (Dark Dungeon)

from FlamingGnats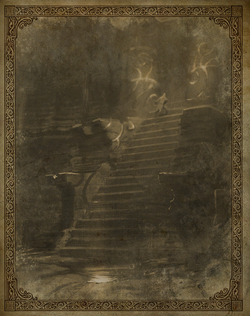 The Dark Dungeon is a location in Castlevania: Lords of Shadow. It is the sixth level of the second chapter.
The level's unlockable trial requires that Gabriel finishes the level without using a Grip Attack against a single Gremlin.
Zobek's journal
Edit
Who is this strange girl? Surely she could not have survived alone in this hellhole? Gabriel follows her deep into the depths of the city. I wonder where she is leading him. It is strange. I hear no words, and yet it seems Gabriel is communicating with her in some way...Something tells me she has a part to play in all of this...
Enemy Data
Edit
Enemy Data: Dark Dungeon
Image

Name

- Game
Description
Statistics
Items
Location
These monsters are the largest type of known arachnids. (

...

)
Strong: Fairy, Holy Water x2, Divine Shield
Weak: Dagger, Crystal x3
Size: Big
Difficulty: Medium

Drop: Light Gem (once)

Chapter 2, 6

Small, winged imps, famous for causing havoc wherever they go. (

...

)
Strong: Fairy
Weak: Dagger x2, Light Fairy, Holy Water x2, Crystal x3
Size: Small
Difficulty: Low

Chapter 2, 5, 8

Item Data
Edit
Item Data: Dark Dungeon
Image

Name

- Game
Description
Type / Users
Attributes / Consume
Statistics / Sell
Found
Notes
(Blue magical gems that can be inserted into the empty slots of a Light Gem Medallion.)
Gabriel 
Find: Chapters 2, 3, 4, 5, 6, 7, 8, 9, 10, 11

(Red magical gems that can be inserted into the empty slots of a Shadow Gem Medallion.)
Gabriel 
Find: Chapters 2, 3, 4, 5, 6, 7, 8, 9, 10, 11

Related locations
Edit