Ad blocker interference detected!
Wikia is a free-to-use site that makes money from advertising. We have a modified experience for viewers using ad blockers

Wikia is not accessible if you've made further modifications. Remove the custom ad blocker rule(s) and the page will load as expected.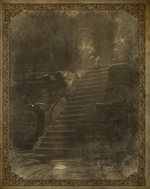 The Dark Dungeon is the sixth level of the second chapter of Castlevania: Lords of Shadow. The level's unlockable trial requires that Gabriel finishes the level without using a Grip Attack against a single Gremlin.

Zobek's Journal
Edit
Who is this strange girl? Surely she could not have survived alone in this hellhole? Gabriel follows her deep into the depths of the city. I wonder where she is leading him. It is strange. I hear no words, and yet it seems Gabriel is communicating with her in some way...Something tells me she has a part to play in all of this...
Enemy Data
Edit
Enemy Data: Dark Dungeon
Image

Name

- Game
Description
Statistics
Items
Location
These monsters are the largest type of known arachnids. (

...

)
Strong: Fairy, Holy Water x2, Divine Shield
Weak: Dagger, Crystal x3
Size: Big
Difficulty: Medium

Drop: Light Gem (once)

Chapter 2, 6

Small, winged imps, famous for causing havoc wherever they go. (

...

)
Strong: Fairy
Weak: Dagger x2, Light Fairy, Holy Water x2, Crystal x3
Size: Small
Difficulty: Low

Chapter 2, 5, 8

Item Data
Edit
Item Data: Dark Dungeon
Image

Name

- Game
Description
Type / Users
Attributes / Consume
Statistics / Sell
Found
Notes
(Blue magical gems that can be inserted into the empty slots of a Light Gem Medallion.)
Gabriel 
Find: Chapters 2, 3, 4, 5, 6, 7, 8, 9, 10, 11

(Red magical gems that can be inserted into the empty slots of a Shadow Gem Medallion.)
Gabriel 
Find: Chapters 2, 3, 4, 5, 6, 7, 8, 9, 10, 11

Related Locations
Edit