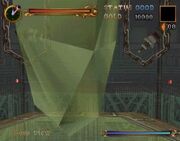 The Crystal Laser of Doom encompasses a whole room at the end of the Tower of Science in Castlevania: Legacy of Darkness. It is armed with lasers and a variety of other machines guns. The crystal is actually the weak point, and getting past its defenses is the only way to take down this guardian.

Enemy Data
Edit
Enemy Data: Crystal Laser of Doom
Image

Name

- Game
Description
Statistics
Items
Location




HP: 200 (140 on Easy, 260 on Hard), 40 for Lasers

Tower of Science

Ad blocker interference detected!
Wikia is a free-to-use site that makes money from advertising. We have a modified experience for viewers using ad blockers

Wikia is not accessible if you've made further modifications. Remove the custom ad blocker rule(s) and the page will load as expected.