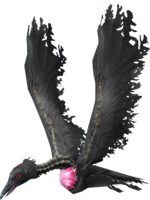 For the enemy, see Crow.
"A black bird said to feast on corpse flesh, and hated for it. Rumors of death follow in its path."
— Description
Crow is the initial Bird-Type Innocent Devil form found in Mortvia Aqueduct. It is a balanced familiar that knows the skill Glide by default.
Statistics
Edit
The following table represents the initial stats (1st Generation) and stat gain per level of the Crow.[1]
Crow
Statistic
Initial
Per Level
Heart
50
+3
Attack
5
+0.8
Magic
5
+2
Defense
5
+2
Agility
50
+2
Abilities
Edit
Item Data: Crow Abilities
Image

Name

- Game
Description
Type / Users
Attributes / Consume
Statistics / Sell
Found
Notes
Uses legs to propel Hector long distances. Allows access to places a normal jump cannot reach.
Innocent Devil Abilities
Crow 
Consume: 0 Hearts 
First Obtained: Innate ability

Effect: Carries Hector over gaps.

References
Edit
Ad blocker interference detected!
Wikia is a free-to-use site that makes money from advertising. We have a modified experience for viewers using ad blockers

Wikia is not accessible if you've made further modifications. Remove the custom ad blocker rule(s) and the page will load as expected.