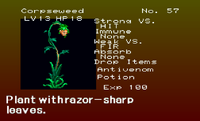 The Corpseweeds are plants that have grown upon a grave and absorbed the contents, becoming half living plant, half zombie. They first appear as a normal Une, but then after some time grow a tall stalk with a venom-spitting flower at the top.
Enemy Data
Edit
Enemy Data: Corpseweed
Image

Name

- Game
Description
Statistics
Items
Location
Plant with razor-sharp leaves.
Strong: Hit
Weak: Fire
Level: 13
HP: 18 (Weed) /20 (Face)
Exp: 100

Drop: Antivenom, Potion

Cave, Black Marble Gallery, Underground Caverns, Long Library, Underground Garden (Saturn only)

An Une that feeds off the nutrients of corpses.
Strong: Lightning
Weak: Slashing, Fire, Stone
HP: 43
MP: 1
Exp: 55
Atk: 24
Timestop: Affected

Soul: Corpseweed Familiar (32%)

Garden of Madness

A grown Une that bears the face of the human it fed on.
Strong: Electric
Weak: Slash, Fire, Stone
HP: 148
Exp: 53
Skill Pt: 2

Drop: Orchid Corsage

Sandy Grave, Forest of Doom

References
Edit
In Castlevania: Symphony of the Night, killing Corpseweed before sprouting will show the name Thornweed instead of its name. Even after sprouting, the root still has Thornweed's stats.