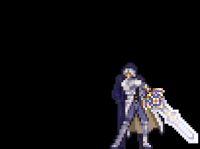 Claimh Solais is one of the most powerful weapons in either Castlevania: Aria of Sorrow or Dawn of Sorrow, and the most powerful weapon in normal mode; sans the extra weapons from the time trials and the Final Sword (in AoS). The sword is a holy weapon, so it is strong against enemies with the Dark attribute, and it has one of the longest reaches of any weapon. It is also swung vertically, giving it a wide range. To obtain it, Soma must get past the waterfall into the Forbidden Area and break a wall underwater in the sunken ship room leading to the sword. While its physical damage is not as high as Death's Scythe, it is overall more powerful as a result of the light attribute. This makes the Claimh Solais more powerful against dark enemies, where as Death's Scythe is weak against dark enemies. It appears again in Dawn of Sorrow. The Alastor soul is needed to create the weapon through soul fusion. Its Critical Attack (A button) summons a giant armor-clad arm wielding a giant Claimh Solais that follows your sword attack with its own attack.
In mythology
Edit
In Irish mythology, Claíomh Solais (IPA: [kɫiːv ˈsɔɫɪʃ]; also known as the Sword of Light) was a sword that came from Findias and belonged to Nuadha Airgeadlámh (Nuadha of the Silver Hand), who was leader of the Tuatha Dé Danann and King of Ireland. In legend, the sword glowed with a bright light, hence its name. It was non-resistible in battle and had the power to cut his enemies in half.[citation needed] It is one of the Four Treasures of Ireland (the others being the Spear of Lugh, The Dagda's Cauldron and the Stone of Fal).
Item Data
Edit
Item Data: Claimh Solais
Image

Name

- Game
Description
Type / Users
Attributes / Consume
Statistics / Sell
Found
Notes
Sword with a sparkling blade.
Weapon
Soma 
Attrib: Sword, Holy

ATK +99, STR +7, CON +7, INT +7

(...)


Sell: $50,000 
Find: Forbidden Area (hidden)

An indefatigable sword. Its blade glitters with light.
Great Sword
Soma 
Attrib: Slash

ATK +120
Sell: $50,000 
Buy: $100,000 Find: Yoko's Shop
Create: Final Sword + Alastor Soul

Effect: Gets longer

An indefatigable sword. Its blade glitters with light.
Greatsword
Soma 
#hands: 2

ATK +70, INT +3
Sell: (cannot be sold) 
Rarity: *****
Drop: Dracula
First Obtained: Chapter 6 (Hard)

An indefatigable sword. Its blade glitters with light.
Greatsword
Soma 
#hands: 2

ATK +82, STR +6, INT +6

Rarity: *****
Drop: R. The Count
First Obtained: Chapter 10 (Hard)

Animations
Edit
Ad blocker interference detected!
Wikia is a free-to-use site that makes money from advertising. We have a modified experience for viewers using ad blockers

Wikia is not accessible if you've made further modifications. Remove the custom ad blocker rule(s) and the page will load as expected.