Chronomage
Talk

0
4,021pages on
this wiki
Chronomage is a rabbit who uses a clock to stop time. Strict in regards to tardiness. The Chronomage is impossible to defeat through normal means, spotting the player whenever they approach him or even attack within the room and using his clock to reverse time, effectively placing the player outside of his room. Because of this, the only way to defeat it is by acquiring the Galamoth soul, which makes the player immune to time, or using its own soul if player began a New Game+ (which carries over all items and souls, save for Ability Souls and the souls needed to progress like Skula) or has already obtained his soul.
Enemy Data
Edit
Enemy Data: Chronomage
Image

Name

- Game
Description
Statistics
Items
Location
Rabbit that uses a clock to stop time. Strict in regards to tardiness.Abil: Attack freezes time.

Strong: Dark
Weak: Holy
HP: 30
Exp: 80
Timestop: Unaffected

Common Drop: Pudding
Soul: Time Stop

Inner Quarters

Castlevania: Dawn of Sorrow
Edit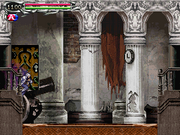 The Chronomage makes a one-time cameo appearance in
Dawn of Sorrow
. When Soma enters the first room of the
Silenced Ruins
, a cannon fires in order to open the path to the ruins, with the purpose of breaking down two pillars that bar the way. However, the Chronomage stops time before the cannon can break down the second pillar (interestingly, his time stop does not affect Soma), and he can be seen as a relief in the second pillar after stopping time. The player has to use the
Zephyr's soul
in order to progress, effectively resuming the passage of time and breaking down the pillar. The Chronomage is not seen again.
After this room was entered for the first time, a new entry about the Chronomage appears in the library. There it is revealed that he has a strong connection to Zephyr, another time-controlling demon.
The Chronomage is loosely inspired by the White Rabbit in the fairy tale Alice in Wonderland, written by Lewis Carroll. In the story, the Rabbit is depicted carrying a stopwatch, which explains the Chronomage's ability regarding time magic. Also, the Rabbit is obsessed over tardiness, and when it spots Alice, it quickly hops away. (The same thing also happens to Soma; if he stops doing anything long enough for the Chronomage to escape, it quickly hops away and definitely it won't come back.) The Chronomage's behavior is a reference to this.