Chaotic Realm
Talk

0
4,021pages on
this wiki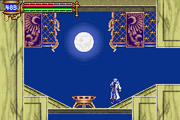 A realm of distorted space where Castlevania's power is stored by accumulating negative energy, this energy is used and processed for the resurrection of both Count Dracula and the re-emergence of Castlevania itself. This area was accessed by Soma Cruz when his identity as the reincarnation of Dracula was revealed. The portal leading to it doesn't work until you beat Julius.
[1]
Description
Edit
The chaotic realm is the source of all chaos and Dracula's own power. This power seems to manifest itself in physical form near the center of the realm.
The Chaotic Realm appears as an amalgamation between all of the previous areas of the castle, excluding the Floating Garden. However, all color has faded from these rooms. The backgrounds which move are frozen (examples: Underground Reservoir: the waterfalls and Clock Tower gears) as time appears to be stopped. The actual whole of the chaotic realm cannot be seen on the map, as no map exists for the realm. Although this cannot be seen via the map, Soma begins at the bottom right of the map and travels upwards, left, and so on in a spiral-like path until he reaches Chaos's room, to the left of the center of the map.
Although most of the rooms in the Chaotic Realm are not original and belong to other areas of the castle, there are a few scattered rooms where the actual realm can be seen, in destroyed rooms where the background is seen to be outer space which is hyper-speeding after 2-3 seconds and reverse.
The boss door leading to Chaos appears as a normal door but grey and electrical. Beyond that is a purple energy beam shooting from the center of the room to the floor which standing on it will lead the player to the final fight while the background is pitch-black.
Enemy Data
Edit
Enemy Data: Chaotic Realm
Image

Name

- Game
Description
Statistics
Items
Location
Skeleton wizard whose powers come from the hole drilled into his head.
Strong: Dark
Weak: Light
HP: 400
Exp: 320
Timestop: Unaffected

Drop: Nothing
Soul: Skeleton Beam

The Arena, Chaotic Realm

Skeleton swordsman with strong defense.Abil: When not attacking, blocks attacks.

Strong: Dark
Weak: Holy
HP: 100
Exp: 3000

Common Drop: Estoc
Rare Drop: Blocking Mail
Soul: Body of Gold

The Arena, Chaotic Realm

An always angry minion of hell. Not enough calcium in his diet.
Strong: Nothing
Weak: Sword, Curse
HP: 500
Exp: 550
Timestop: Unaffected

Rare Drop: Muramasa
Soul: Berserker

Top Floor

A man-llike (sic) figure made of iron and animated by magic. Extremely tough.Abil: Every attack deals 1 one point of damage.

Strong: Everything
Weak: Nothing
HP: 9999
MP: 1
Exp: 600
Timestop: Unaffected

Drop: Nothing
Soul: Tireless Spirit

Top Floor, Chaotic Realm

Though he's dead, this horseback warrior still seeks out battles.
Strong: Dark
Weak: Light
HP: 600
Exp: 1000
Timestop: Partially unaffected (if attacks while time is stopped, it will still continue to attack without moving)

Drop: Nothing
Soul: Crush Wheel

The Arena, Chaotic Realm

The offspring of a lizard and a bird. Its gaze can turn you to stone.Abil: Attack petrifies.

Strong: Nothing
Weak: Sword, Curse
HP: 700
Exp: 600

Rare Drop: Milican's Sword
Soul: Defender

Top Floor, Chaotic Realm

A huge skeleton with no lower body that crawls along the ground.
Strong: Dark
Weak: Light
HP: 2000
Exp: 1200
Timestop: Unaffected

Rare Drop: Durandal
Soul: Big Skull

The Arena, Chaotic Realm

The goddess of revenge.
Strong: Light
Weak: Sword, Dark, Poison, Curse
HP: 200
Exp: 500

Rare Drop: Ronginus' Spear
Soul: Sense Up

Top Floor, Chaotic Realm

His vengeful spirit possesses a floating sword.
Strong: Nothing
Weak: Nothing
HP: 1200
Exp: 1500
Timestop: Unaffected

Drop: Nothing
Soul: Alastor Familiar

Chaotic Realm

A creature whose body is made up of a gelatinous substance.Abil: Physical contact causes poison.

Strong: Sword, Water
Weak: Fire
HP: 200
Exp: 200

Drop: Nothing
Soul: Bound Slime

Underground Reservoir, Chaotic Realm

This dark king rules over most of the demon population.
Strong: Dark
Weak: Light
HP: 1800
Exp: 3000
Timestop: Unaffected

Common Drop: Mana Prism
Rare Drop: Demon's Mail
Soul: Dark Inferno

Top Floor, Chaotic Realm

Ruler of the water kingdom.
Weak: Fire, Curse
HP: 400
Exp: 300

Common Drop: Trident
Rare Drop: Potato Pancake
Soul: Battle God's Power

Underground Reservoir

Dead fish reanimated to protect the sea.
Strong: Dark
Weak: Holy
HP: 280
Exp: 100

Drop: Nothing
Soul: Fire Ball

Underground Reservoir

This enticing beauty is really a nightmare in disguise.
Strong: Dark
Weak: Sword
HP: 550
Exp: 360
Timestop: Unaffected

Common Drop: Heart Pendant
Rare Drop: Pudding
Soul: Death Touch

The Arena, Top Floor, Chaotic Realm

Specially chosen to defend important areas of the castle.
Strong: Everything
Weak: No element (Hit)
HP: 1200
Exp: 2000
Timestop: Unaffected

Common Drop: Gold Plate
Rare Drop: Final Sword
Soul: Final Guard

Top Floor, Chaotic Realm



A creature mass-produced from the head of Medusa.Abil: Gold Medusa Head petrifies.

Strong: Dark
Weak: Holy
HP: 30
Exp: 10

Drop: Nothing
Soul: Vector ZERO

Clock Tower, Underground Reservoir

This strong knight sold his soul to the Devil.
Strong: Fire, Dark
Weak: Light
HP: 3000
Exp: 3000
Timestop: Unaffected

Rare Drop: Super Potion
Soul: Guardian Shadow Knight

Chaotic Realm

An aged, wise owl.Abil: Summons Skeleton Knights and Dead Crusaders.

Strong: Dark
Weak: Light
HP: 1500
Exp: 1500

Drop: High Potion
Soul: God's Wisdom

Top Floor, Chaotic Realm

Assumes the form of a treasure and quietly awaits his prey.
Strong: Dark
Weak: Light
HP: 100
Exp: 200

Drop: Nothing
Soul: Cash Back

Forbidden Area, Chaotic Realm (Inside of a candle)

Boss


The root of all chaotic things.
Strong: Dark
Weak: Nothing
HP: 9999
Exp: 0
Timestop: Unaffected

Drop: Nothing
Soul: N/A

Chaotic Realm (as a boss)

References
Edit