Ad blocker interference detected!
Wikia is a free-to-use site that makes money from advertising. We have a modified experience for viewers using ad blockers

Wikia is not accessible if you've made further modifications. Remove the custom ad blocker rule(s) and the page will load as expected.
The first chapter of Castlevania: Harmony of Despair. It is an amalgamation of the Dark Chapel, Cursed Clock Tower, and Condemned Tower from Castlevania: Dawn of Sorrow. The theme is Ruined Castle Corridor.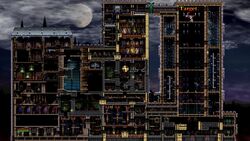 Hidden Item
Edit
The Bell appears as a hidden item in this chapter. At the room with the three big green bells as well as two Flea Men and a Bone Pillar, slide under the lowest bell and jump inside it. The Bell would fall down from the left bell.
Enemy Data: Chapter 1 Enemies(edit)
Image

Name

- Game
Description
Statistics
Items
Location
An animated corpse.
Weak: Strike, Slash, Pierce, Petrify

Drop: Hobo's Clothes (4.30%)
Soul: Yellow Soul (2.30%) Gain resistance to poison.

Chapter 1, 9

A bloodsucking bat that lurks in the castle.
Weak: Slash, Pierce, Petrify, Holy, Poison, Curse

Soul: Blue (2.80%) Summon a Bat as a familiar.

Chapter 1, 8, 9

A skeletal corpse controlled by magic.
Strong: Pierce, Ice, Darkness
Weak: Strike, Fire, Holy

Bind: Summon Skeleton
Soul: Red (2.80%) Throw bones.

Chapter 1, 2, 3, 7, 9

A small spirit doomed to wander the castle grounds for all eternity.
Soul: Blue (2.80%) Summon a Ghost as a familiar.

Chapter 1

A zombie warrior in heavy armor, equipped with a devastating axe.
Strong: Pierce, Ice
Weak: Strike, Lightning, Petrify, Poison

Drop: Axe (8.30%)
Axe Knight Shield (2.30%)
Soul: Red (2.80%)

Chapter 1, 2, 3, 4, 5, 7

A creature that keeps watch in the castle.
Weak: Slash, Pierce

Drop: Monocle (5.30%)
Gambler Glasses (0.80%)
Soul: Yellow Soul (0.80%) Identify breakable walls.

Chapter 1, 3, Chapter 5

A fallen angel who is now a fearsome archer.
Strong: Holy
Weak: Slash, Pierce, Petrify, Darkness, Poison, Curse

Drop: Chakram (2.30%)
Soul: Red (2.80%) Summon an archer to support you.

Chapter 1

Half fish, half man, and all monster. It hunts prey near the water.
Strong: Ice
Weak: Slash, Pierce, Lightning, Petrify, Poison, Curse

Bind: Splash Needle
Soul: Red (2.80%) Shoot a stream of water.

Chapter 1,Chapter9

A four-legged skeleton that crawls on walls.
Strong: Pierce, Darkness
Weak: Strike, Fire, Holy

Bind: Raging Fire
Soul: Red (2.80%) Spew fire while spinning around.

Chapter 1, 2, 4, 5

Stacked dinosaur skulls, animated by a demonic force.
Strong: Darkness
Weak: Strike, Fire, Holy

Bind: Fireball
Soul: Yellow (1.30%) Increase CON.

Chapter 1, 2, 3,7,9

A creature with the head of a bull and the body of a man.
Strong: Strike
Weak: Slash, Pierce, Petrify, Curse, Poison

Drop: Meat Strip (5.30%)
Battle Axe (2.30%)
Bind: Raging Fire
Soul: Yellow (2.30%) Increase STR.

Chapter 1, 3, 4

Boss
A once-gentle beast, warped by magic and driven mad by imprisonment.
Weak: Slash, Pierce, Ice

Drop: Hercules Ring (normal only), Spiked Boots (normal only), Blue Knuckles (normal Alucard only), Daybreak (Alucard only), Tough Ring (hard only), Combo Boots (hard only), Mjollnjr (Hard Soma only), Spiked Armor (Hard Jonathan, Julius, Richter only)
Soul: Red (0.30%)

Chapter 1

Item Data (Normal Difficulty)
Edit
Item Data: Chapter 1 Normal Difficulty Items
Image

Name

- Game
Description
Type / Users
Attributes / Consume
Statistics / Sell
Found
Notes
Brown Chests Only
A French pasty first devised long ago in a convent.
Item (Food)
any 
HP +15, CON +2
Sell: $40 
Rarity: *
Find: Chapter 1

Topped with a Cerry.
Item (Food - Beverage)
any 
MP +3/TIME
Sell: $137 
Rarity: *
Find: Chapter 1, 2, 3

Standard sword with a short blade.
Sword
Alucard / Soma 
#hands: 1

ATK +4
Sell: $300 
Rarity: *
Find: Chapter 1, 2, 3

Brown or Green (or Blue on Solo) Chests
Piece of cloth to protect forehead.
Head (Bandana)
Soma, Alucard, Jonathan, Julius, Richter 
HP +2, DEF +1, CON +1
Sell: $250 
Rarity: *
Buy: $1,000 Find: Chapter 1, 2, 4

Comfy-looking sandals made of leather.
Leg (Sandals)
any 
DEF +1
Sell: $125 
Rarity: *
Buy: $500 Find: Chapter 1, 2, 4

Heavy, think-treaded boots.
Leg (Boots)
Soma, Alucard, Jonathan, Julius, Richter, Shanoa 
HP +1, DEF +1
Sell: $200 
Rarity: *
Find: Chapter 1, 2, 3

Green (or Blue on Solo) Chests Only
Tanned leather hat.
Head (Hat)
any 
HP +2, DEF +2
Sell: $200 
Rarity: *
Find: Chapter 1, 2, 3

Standard adventurer's helm.
Head (Helmet)
any 
HP +1, DEF +1
Sell: $125 
Rarity: *
Find: Chapter 1, 2, 3, 4

Simple garment made of cloth.
Chest (Clothes)
any 
DEF +1
Sell: $100 
Rarity: *
Find: Chapter 1, 2, 3, 4

Tight, form-fitting dress for the well-dressed lady.
Chest (Dress)
Shanoa, Charlotte, Maria, Yoko 
MP +1, DEF +2, MND +1
Sell: $200 
Rarity: *
Find: Chapter 1

Simple but sturdy cape.
Back (Cloak)
any 
Attrib: Fire +5, Ice +5

DEF +1
Sell: $75 
Rarity: *
Buy: $300 
Shoes with unusual soles that let the wearer walk silently.
Leg (Shoes)
Shanoa, Charlotte 
MP +1, DEF +2
Sell: $300 
Rarity: *
Find: Chapter 1

Made up of small, snowy white flowers.
Accessory (Corsage)
Shanoa, Charlotte 
MP +1, DEF +1, INT +1
Sell: $125 
Rarity: *

Large, circular earring.
Accessory (Earring)
any 
HP +1, DEF +1
Sell: $75 
Rarity: *

Norman sword with a wide, crescent-shaped blade.
Greatsword
Alucard/Soma 
#hands: 2

ATK +6
Sell: $250 
Rarity: *

Effect: Special (Soma) - Quick hit (15 MP)

Iron-studded brass knuckles.
Cestus
Alucard 
#hands: 1

ATK +3
Sell: $195 
Rarity: *

Green (or Blue on Solo) or Purple Chests
Stylish hat that is soft to the touch.
Head (Hat)
any 
HP +2, DEF +3
Sell: $250 
Rarity: *
Find: Chapter 1, 2, 3, 4, 5

Purple Chests Only
Fashionable hat that just feels right with a whip.
Head (Hat)
any 
HP +2, DEF +2
Sell: $250 
Rarity: *
Find: Chapter 1, 3, 4, 5

Roomy robe with large, hanging sleeves.
Chest (Robe)
any 
DEF +5
Sell: $575 
Rarity: *
Find: Chapter 1, 2, 3, 4, 5

A plain, long dress.
Chest (Dress)
any 
DEF +2, CON +1
Sell: $375 
Rarity: *
Find: Chapter 1, 2, 4

Flashy velvet cape.
Back (Cloak)
any 
Attrib: Fire +5, Ice +5

HP +2,

MP +2, DEF +2
Sell: $200 

Rarity: *
Buy: $800 
Crimson scarf with an air of melancholy about it.
Accessory (Neck Gear)
any 
Attrib: Ice +15

HP +4, MP +4, DEF +3, INT +2, MND +2
Sell: $1,300 
Rarity: ***

Shield of hard metal.
Shield
Alucard 
DEF +2
Sell: $375 
Rarity: *
Drop: chp 2 normal

A large club.
Cudgel
Alucard/Soma 
#hands: 1

ATK +5
Sell: $450 
Rarity: *

A standard spear.
Lance
Soma 
#hands: 1

ATK +

8


Sell: $500 
Rarity: *

Effect: Special - Quick hit (15 MP)

Purple or Boss Chests
Scarf made of knitted wool.
Accessory (Neck Gear)
any 
HP +3, DEF +1, CON +1, MND +1
Sell: $450 
Rarity: *

Explodes for fire damage one second after the pin is pulled.
Sub-Weapon
Jonathan 
Consume:

12

MP 
ATK +10

Rarity: **
Find: Green Chest
(Chapter 2/3/4)
Drop: The Creature (4.3%)

Breastplate made of burnished copper.
Chest (body armor)
Soma, Alucard, Jonathan, Shanoa Julius,Richter 
DEF +4
Sell: $500 
Rarity: *

Athletic training suit.
Chest (Clothes)
any 
HP +1, DEF +3, STR +1
Sell: $600 
Rarity: *
Find: Chapter 1, 3, 4

Keeps out the cold. Made of a new synthetic material.
Accessory (Neck Gear)
any 
Attrib: Ice +20

DEF +1
Sell: $250 
Rarity: *

Boss Chests Only
Restores a lot of MP.
Item (Medicine)
any 
MP +50
Sell: $250 
Rarity: **
Buy: $1,000 
Restores a lot of HP.
Item (Medicine)
any 
HP +60
Sell: $125 
Rarity: ***
Buy: $500 
A fine ribbon, soft to the touch.
Head (Ribbon)
Shanoa, Charlotte, Yoko, Maria 
DEF +1, MND +1
Sell: $250 
Rarity: *
Find: Chapter 1
Drop: Gergoth

Boots that deal extra damage when kicking.
Leg (Boots)
Soma, Alucard, Jonathan, Julius, Richter, Shanoa 
DEF +3
Sell: (cannot be sold) 
Rarity: ***
Find: Chapter 1 (Normal)
Drop: Gergoth

Lets you ignore blows like a mighty god.
Accessory
any 
Attrib: Prevents most knock-back

CON +3
Sell: $1,250 
Rarity: ***

Valuable antique brooch.
Accessory (Brooch)
Shanoa, Charlotte 
HP +2, MP +2, DEF +1, MND +1
Sell: $250 
Rarity: *

Dagger with an I-shaped shaft.
Dagger
Alucard/Soma 
#hands: 1

ATK +5
Sell: $650 
Rarity: *

Effect: Stab

Specially designed for devastating uppercuts.
Cestus
Alucard 
#hands: 1

ATK +11
Sell: $2,450 
Rarity: ***
Drop: chp 1 normal boss chest