Castlevania: The Bloodletting
Talk

0
3,984pages on
this wiki
Castlevania: The Bloodletting is the commonly used name among the fandom for a canceled Castlevania game that was intended to be released for the Sega 32X add-on for the Sega Genesis console sometime in 1996 or 1997. A single sprite for three characters are all that remain of this game. Through later interviews with IGA, it has been revealed that the game was intended to feature Richter Belmont, Maria Renard, and a rival to Richter.[1]
Although announced for the Sega 32x (including two reported, although currently unrecovered, screenshots), the game soon disappeared from the radar. Sometime thereafter, Castlevania: Symphony of the Night was announced for the Sony PlayStation. Several members of the development team that was working on "Bloodletting" eventually became the team at work on Symphony of the Night,[2] and their work was later used in part or in whole in that game (again, the similarities to some sprites would help to point in that direction). The sprite for the rival was reworked from Richter Belmont's original sprite in Castlevania Dracula X: Rondo of Blood, while the new Richter sprite later became Fake Trevor's.
Character Gallery
Edit
See also Bloodletting Artwork
Interviews
Edit
Electronic Gaming Monthly, Issue 206 (August, 2006), Page 102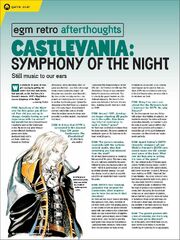 EGM:
Is it true that SOTN is connected to the doomed Sega 32X game Castlevania: The Bloodletting?
IGA:
Well, there was another Castlevania title being developed on the 32X, but I don't believe the title was The Bloodletting. The game was cancelled before the name was confirmed. This is actually the game I worked on after Tokimeki Memorial. The team for this game was disbanded, but several members, including myself, went on to work on SOTN.
Vampire Hunter Dot Art Collection

Note: Translation based on the text from KYASSURUBANIA BANPAIAKIRA
Commentator:
There is a character strange near the center.
IGA:
The left is a rival-positioned character.
It is a playable character that images the overseas-market user's preference.
Two of the right is Richter and Maria's canceled character models for Mega-Drive32X during developments.
Commentator:
I did not know the existence of such a character!!
The rival character seems to have been a tough power fighter more than Richter.
Maria has exposed the thigh — hmmm, SEXY!
Thank you IGA!!
Related Products
Edit
References
Edit
External links
Edit