Ad blocker interference detected!
Wikia is a free-to-use site that makes money from advertising. We have a modified experience for viewers using ad blockers

Wikia is not accessible if you've made further modifications. Remove the custom ad blocker rule(s) and the page will load as expected.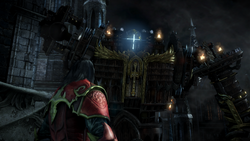 The Tutorial stage for Castlevania: Lords of Shadow 2 and the first mission in the game. It takes place in the Throne Room, during the Brotherhood of Light's siege on Castlevania.
Enemies Encountered:
Item Data
Edit
Includes most of the weapon's skills
Item Data: Items
Image

Name

- Game
Description
Type / Users
Attributes / Consume
Statistics / Sell
Found
Notes
The Prince of Darkness now uses his own blood, which takes the shape of a sinuous whip, to inflict pain and death wherever he goes. (

...

)
Weapon
Dracula 
Find: (start with)

Capable of draining both the nightmares of its owner and the life of everyone that comes in contact with its blade.(

...

)
Weapon
Dracula 
Find: Castle Siege (lost), Bernhard's Wing

Sequence: [Void Power Enable / Disable] (L1 on PS3)

Filled with contained fury, waiting for their master to unleash their power once again.(

...

)
Weapon
Dracula 
Find: Castle Siege (lost)

Sequence: [Void Power Enable / Disable] (L1 on PS3)

Skills Learned
Edit
Item Data: Skills
Image

Name

- Game
Description
Type / Users
Attributes / Consume
Statistics / Sell
Found
Notes
'
Skill
Dracula, Alucard 
First Obtained: Castle Siege

Sequence: [Movement] (L pad on PS3)

A basic jump. Combine this move with other attacks to perform aerial combos.
Skill (Basic Action)
Dracula, Alucard 
First Obtained: Castle Siege

Sequence: [Jump] (x on PS3)

Direct attack that hits enemies in front of you.
Skill (Basic Action)
Dracula, Alucard 
First Obtained: Castle Siege

Sequence: [Direct Attack] (ground or air)

Area attack that hits nearby enemies around you.
Skill (Basic Action)
Dracula, Alucard 
First Obtained: Castle Siege

Sequence: [Area Attack] (triangle on PS3) (ground or air)

'
Skill
Dracula, Alucard 
First Obtained: Castle Siege

Sequence: [Camera] (R pad on PS3)

Press and hold [Block] to block enemy attacks. Unblockable attacks are indicated with a red warning flash.
Skill (Basic Action)
Dracula, Alucard 
First Obtained: Castle Siege

Sequence: [Block] (L2 on PS3) (ground or air)

Press [Block] at exactly the right time to synchronize your block. When performed correctly the enemy will be stunned for a few moments. Unblockable attacks, indicated with a red warning flash, can't be synch blocked.
Skill (Basic Action)
Dracula, Alucard 
First Obtained: Castle Siege

Sequence: At just the right time - [Block] (ground or air)

While blocking with [Block] use the left stick to evade enemy attacks.
Skill (Basic Action)
Dracula, Alucard 
First Obtained: Castle Siege

Sequence: Hold [Block] + [Movement] (ground or air)

'
Skill
Dracula 
First Obtained: Castle Siege

Sequence: When knocked down: [Jump]

Press [Grip / Use] to grab enemies or interact with glowing objects.
Skill (Basic Action)
Dracula, Alucard 
First Obtained: Castle Siege

Sequence: [Grip / Use] (Circle on PS3)