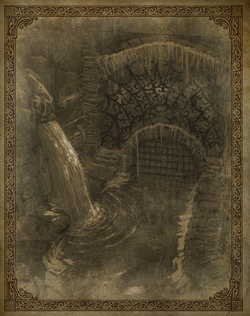 The Castle Sewers is the seventh and final stage of Lords of Shadow Chapter 5. The level's unlockable trial requires that Gabriel finish the level after killing three Skeleton Warriors without destroying their shields.
Zobek's journal
Edit
Wygol Village is safe, for now. The vampires have lost one of their commanders, Brauner, and news will travel back to the Dark Lord quickly. This is a blow, but it won't take long for them to regroup. Luckily, one of the villagers has revealed to us a secret path into the demon's castle. This will lead Gabriel into the sewers and then up into the very jaws of death. The villagers called him "God Savior", and his weapon they called "Vampire Killer". Ah, Gandolfi, how that would make you smile. As for me, once my business here is done, I shall follow my friend and aid him where I can.
Enemy Data
Edit
Enemy Data: Castle Sewers
Image

Name

- Game
Description
Statistics
Items
Location
The human inhabitants of the Vampire Castle suffered a cruel fate once the Dark Lord set up her lair inside. (

...

)
Strong: Dagger x3, Fairy
Weak: Dagger, Light Fairy, Holy Water, Crystal x3
Size: Medium
Difficulty: Medium

Chapters 5, 6, 7, 8, 10, 13

Item Data
Edit
Item Data: Castle Sewers
Image

Name

- Game
Description
Type / Users
Attributes / Consume
Statistics / Sell
Found
Notes
(Red magical gems that can be inserted into the empty slots of a Shadow Gem Medallion.)
Gabriel 
Find: Chapters 2, 3, 4, 5, 6, 7, 8, 9, 10, 11

Related locations
Edit
Ad blocker interference detected!
Wikia is a free-to-use site that makes money from advertising. We have a modified experience for viewers using ad blockers

Wikia is not accessible if you've made further modifications. Remove the custom ad blocker rule(s) and the page will load as expected.