Ad blocker interference detected!
Wikia is a free-to-use site that makes money from advertising. We have a modified experience for viewers using ad blockers

Wikia is not accessible if you've made further modifications. Remove the custom ad blocker rule(s) and the page will load as expected.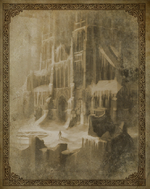 Castle Courtyard is the first stage of Lords of Shadow Chapter 6. The level's unlockable trial requires that Gabriel finishes the level and kill three Skeleton Warriors while mounted on a Warg.

Zobek's Journal
Edit
Despite his best efforts to try entering the castle unnoticed, the vampires know that Gabriel is coming. Night is fast approaching, and soon he will have to use all his wits and powers to defeat what nightmares inhabit this place of death and decay. His strength grows by the day, and yet his anger intensifies deep within. He eats little and sleeps less. She is there in his thoughts, his beloved Marie, he knows that his journey is far from over. This castle I fear will push him into the abyss from which there is no escape.
Enemy Data
Edit
Enemy Data: Castle Courtyard
Image

Name

- Game
Description
Statistics
Items
Location
These empty suits of armor have been given temporary 'life' due to possession by a poltergeist. (

...

)
Strong: Dagger, Fairy x3
Weak: Explosive Dagger, Light Fairy, Holy Water, Crystal x3
Size: Big
Difficulty: Medium

Drop: Often a complete Dark Crystal

Chapters 5, 6, 7

The human inhabitants of the Vampire Castle suffered a cruel fate once the Dark Lord set up her lair inside. (

...

)
Strong: Dagger x3, Fairy
Weak: Dagger, Light Fairy, Holy Water, Crystal x3
Size: Medium
Difficulty: Medium

Chapters 5, 6, 7, 8, 10, 13

A Vampire can be born from many different creatures; the ceremony itself involves the exchange of blood between the 'host' and the soon-to-be Vampire. (

...

)
Strong: Fairy
Weak: Dagger, Light Fairy, Holy Water x3, Divine Shield x2, Crystal x3
Size: Medium
Difficulty: Medium

Chapters 5, 6, 7, 8

Little is known about these fierce, wolf-like beasts. (

...

)
Strong: Light Fairy, Holy Water x2, Divine Shield
Weak: Dagger x2, Fairy, Divine Shield, Crystal x3
Size: Big
Difficulty: Medium

Chapters 1 (bestiary in Hunting Path), 2, 3, 6

Item Data
Edit
Item Data: Castle Courtyard
Image

Name

- Game
Description
Type / Users
Attributes / Consume
Statistics / Sell
Found
Notes
(Green magical gems that can be inserted into the empty slots of a Life Gem Medallion.)
Gabriel 
Recovers health.

Find: Chapters 1, 2, 3, 4, 5, 6, 7, 8, 9, 10, 11
First Obtained: Hunting Path

Related Locations
Edit