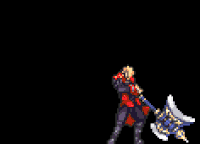 Bullova is a wide, crescent-moon bladed axe for use with both hands.
Game Specific Information
Edit
The Bullova is the first two-handed axe Hector can obtain in the game. It can be crafted by combining a Gano with an Ancient Memory.
In Portrait of Ruin, the Bullova can hit twice to enemies on the ground (a characteristic shared with all Axe-type weapons in the game).
Item Data
Edit
Ad blocker interference detected!
Wikia is a free-to-use site that makes money from advertising. We have a modified experience for viewers using ad blockers

Wikia is not accessible if you've made further modifications. Remove the custom ad blocker rule(s) and the page will load as expected.