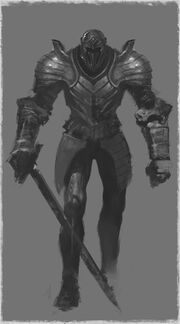 Brotherhood Soldiers are knights deployed by the Brotherhood of Light during their assault on Dracula's castle. They move under the command of the Paladins and Clerics and operate the Siege Titan.
Background
Edit
The boys who prove that they are skilled enough with the sword are recruited by the Brotherhood of Light in their campaign against the forces of evil.
The tough physical and mental training they are given makes them very efficient in close combat, providing them with iron-clad determination. However, if their willpower is not enough they wear full armor and carry large shields to protect their lives instead.
As lower ranking members, the brotherhood soldiers are sent to their death by their generals with the sole hope of offering them a better fate than their own.
Powers and abilities
Edit
These knights aren't very strong and can be defeated easily by Dracula. They can carry shields only the Chaos Claws can break through. They are stronger in numbers. They are first battled by Dracula during the siege of his castle, and later on when he first makes his way to Trevor in his Castle. They are generally summoned by Clerics. They also carry silver daggers that they throw if the player is at a distance or trying to escape.
Enemy Data
Edit
Enemy Data: Brotherhood Soldier
Image

Name

- Game
Description
Statistics
Items
Location
The tough physical and mental training they are given makes them very efficient in close combat, providing them with iron-clad determination. (

...

)
Castle Siege

Screenshots
Edit