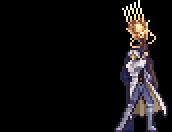 Brionac
is a demonic five-pronged spear.
Item Data
Edit
Item Data: Brionac
Image

Name

- Game
Description
Type / Users
Attributes / Consume
Statistics / Sell
Found
Notes
A demonic five-pronged spear
Polearm
Soma 
Attrib: Pierce

ATK +68
Sell: $16,000 
Buy: $32,000 Find: Yoko's Shop
Create: Trident + Decarabia Soul

Effect: Pierce; Lunge
Evolve: + Slogra Soul >> Geiborg

Demonic five-pronged spear.
Lance
Soma 
#hands: 2

ATK +

35

, HP +5
Sell: $3,750 
Rarity: ***
Drop: slogra

Effect: Special - Quick hit (15 MP)

Ad blocker interference detected!
Wikia is a free-to-use site that makes money from advertising. We have a modified experience for viewers using ad blockers

Wikia is not accessible if you've made further modifications. Remove the custom ad blocker rule(s) and the page will load as expected.