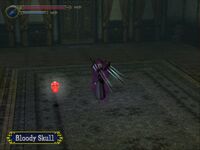 The Bloody Skull is a item in Joachim Armster mode, that can clear all the enemys on the screen. This item is very similar in the form to the Crystal Skull relic and does the same function as the Rosary.
Item Data
Edit
Item Data: Bloody Skull
Image

Name

- Game
Description
Type / Users
Attributes / Consume
Statistics / Sell
Found
Notes
Destroys all enemies on screen.
Item
Joachim Armster 
Bloody Skull has the same form that the Crystal Skull relic, but different colour.
Bloody Skull has the same function that the Rosary, but how you use a malevolent character (Joachim Armster), instead of using a rosary, a skull is used to mean more evil.