Black Dog is a ghostly hellhound who is said to consume darkness.
Appearances
Edit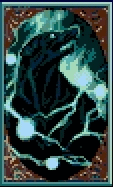 In Circle of the Moon, the Black Dog is a DSS card with Darkness attributes. When combined with other cards, it produces dark effects, such as summoning an Imp or turning into a Skeleton. When the Uranus Card is used with the Black Dog card, the Black Dog itself can be summoned. It is rather weak, as it simply drains minimal amounts of life from the enemy and gives it to the player at a roughly equivalent rate based on the player's HP.
The damage done by all damaging Black Dog effects is dependent on Nathan's STR (as modified by the card combo if applicable) and the susceptibility of the target(s) to Darkness.
Black Dog DSS Effects
Action Card
Name (may be unofficial)
In-Game Description
Description and Qualities
MP Cost

Mercury
Darkness Whip
"Darkness whip to attack and envelop enemies in darkness."
While this card combo is active, the Hunter Whip becomes black in coloration and wrapped in entrails of darkness. The entrails of darkness extend a very short distance past the whip's tip, so the whip's range is very slightly extended, but its attack speed is somewhat reduced. When the whip strikes an enemy, that enemy is engulfed in a cloud of darkness that remains locked on to it for about 5 seconds (or until the enemy is destroyed), inflicting repeated damage over that time (the damage is weak but applied several times per second). An enemy that is already engulfed in a dark cloud cannot be engulfed by another one until the current cloud has dissipated, and the existing cloud's duration will not be reset by another whip-stroke; however, additional whip-strokes will still inflict the amount of damage appropriate to the whip-stroke itself. This card combo also boosts Nathan's Strength (and therefore his attack power, for both the whip-stroke and the darkness cloud) by about 40%.

40/ATTACK

(40 MP per whip-stroke)


Venus
STR Emphasis
"Inflicted damage is X 2 while defense is 1/2."
While this card combo is active, Nathan's Strength is boosted by 100%, but his Defense is reduced by 50%.

8/TIME

(8 MP per second while card combo is active)


Jupiter
Black Hole Barrier
"A black hole barrier will surround you, but HP is drained."
While this card combo is active, Nathan is completely surrounded by a black hole, which acts as a protective shield. It destroys destructible projectiles, candles, and breakable walls, and inflicts severe damage to any enemy that comes into contact with it (much more than that done by the Jupiter + Unicorn combination, which has a similar effect); however, if an enemy is not destroyed by this damage, it will be able to keep going without being slowed down, and will likely injure Nathan. As long as this card combo is active, Nathan's status will be "Poisoned", draining his life just like an enemy-inflicted Poison state; this Poison condition does not wear off over time. It can be cured by an Antidote, but will immediately re-establish itself upon returning to gameplay; however, it will immediately be terminated by deactivating the card combo.

8/TIME

(8 MP per second while card combo is active)


Mars
Gun
"Attack with a gun."
While this card combo is active, pressing the attack button causes Nathan to pull out a handgun; two seconds later, he fires, launching an extremely fast-moving projectile (presumably a bullet) across the screen, then stows the gun away one second later. The bullet vanishes as soon as it hits an enemy, candle, wall, or other object (destructible or otherwise). This card combo boosts Nathan's Strength (and therefore his attack power) by 100%. This attack is very slow (while the projectile itself moves quickly, the attack has a very long start-up and cool-down time) and can only hit directly ahead of Nathan, but its power is truly massive.

32/ATTACK

(32 MP used up each time Nathan pulls out the gun. MP will still be consumed if Nathan is interrupted by an enemy attack before firing)


Diana
Darkness Shells
"8 shells of darkness are released with each attack."
While this card combo is active, 8 shells of darkness are launched every time Nathan swings the Hunter Whip (the whip itself is unaffected). These shells of darkness fly out from Nathan's body, one in each major axial and diagonal direction (up, up-right, right, down-right, down, down-left, left, and up-left, with "right" meaning in front of Nathan and "left" meaning behind him). The shells travel a short distance (about 4/5 the length of the whip-stroke), hover in place momentarily, and disappear immediately, all this in the space of about a half-second longer than a regular whip stroke; however, they do decent damage to any enemy they come in contact with.

32/ATTACK

(32 MP per whip-stroke and corresponding shell-launch)


Apollo
Black Hole

"A black hole is created. [↓ ←(→) ↑ + Attack]"

While this card combo is active, press Down, Right (or Left), then Up plus Attack to make Nathan toss a black hole (very slightly taller than he is and about 3 times as wide). The black hole travels straight ahead until an enemy is within range, at which point it will fly straight to that enemy; upon reaching its target, it circles the center of its body (or whatever the damageable region of its body is), clipping the edge of its frame for repeated damage. If its targeted enemy is destroyed, it seeks a new one. However, it never actually turns back, and will have flown away from the area completely after about 3 seconds. It does very good damage.

120/USE

(120 MP per black hole thrown)


Neptune
Darkness Absorption
"Darkness attacks heal character while reducing MP."
While this card combo is active, if Nathan is struck by a Darkness attack (such as the attacks of the Dark Armor and Devil, as well as the charging attack in the second phase of the fight with Dracula's second form), he does not take any damage to his HP; instead, his MP is reduced by an appropriate amount, and his HP is restored by 10% of the damage he would have otherwise taken.

3/TIME

(3 MP per second while card combo is active; in addition, absorbing an attack reduces Nathan's MP by an amount proportional to the damage that he otherwise would have taken. If Nathan's MP are reduced to 0, the combo is immediately deactivated)


Saturn
Imp Familiar
"An imp familiar that has power up attacks when attack is held."
While this card combo is active, an Imp familiar follows Nathan everywhere he goes; like all other familiars, it will move around by flying, slowly adjusting its height in an up-and-down fashion. Holding the attack button causes the Imp familiar to charge up power, continuing to follow Nathan closely while glowing with a progressively enlarging aura to represent the charge; this charge-up process will drain Nathan's MP. When the attack button is released, the Imp releases its charge, hovering in place while manifesting the charge as a large energy ball, from which the Imp will fire in front of it a steady stream of energy blasts in very rapid succession; each blast will inflict decent damage (the exact amount depending on how much the imp charged up). The Imp will release energy until its charge is depleted (the exact duration of the series of blasts depending on the charge). The Imp will continue consuming MP until the charge is fully depleted; if Nathan runs out of MP at any point during this process, the Imp familiar will immediately be dismissed. The Imp will charge up regardless of whether or not Nathan is actually spinning the whip, as long as the attack button is being held.

4/SHOT

(MP are reduced steadily [presumably at a rate of 4 per half-second] while the Imp is building and releasing charges)


Uranus
Summon Black Dog

"A Black Dog will be summoned to attack. [↓ ←(→) ↑ + Attack]"

While this card combo is active, pressing Down, Right (or Left), then Up plus Attack will make Nathan summon a Black Dog. Nathan will hover in the air, completely invincible, while the Black Dog travels across the screen, this taking 6 seconds; every 1.25 seconds, the Black Dog delivers a dark shock to all enemies and destructible objects on the screen, inflicting very minor damage to the enemies in question and restoring Nathan's HP by an amount equal to ((MAX HP/100)floor) for each enemy damaged in this way (the actual amount of damage is irrelevant). Overall, about 4 dark shock attacks will be executed per summoning.

100/USE

(100 MP used each time the Black Dog is summoned)


Pluto
Skeleton Transformation
"Transforms into a skeleton."

While this card combo is active, Nathan will be a skeleton. He can only walk, throw bones in an Axe-like arc, and execute a single, fairly short jump; if he takes any sort of damage, that damage is amplified to the maximum value (9999), instantly killing Nathan. The bones that Nathan throws (by pressing the attack button) are small and very weak, doing minor damage and being destroyed upon any sort of contact with an enemy or object (breakable or otherwise). However, every time Nathan throws a bone, there is a small chance that it will be enormous (about 3 times Nathan's size); in this case, the bone will continue traveling until it has fallen completely off the screen, going through everything in its path and doing 9,999 damage to every enemy it strikes along the way (being much bigger than usual, it also makes contact far more easily than the smaller bones).

If Nathan has the Bear Ring equipped, Nathan will instead be a mechanized teddy bear while this card combo is active. As a bear, he can walk fast (but is unable to dash) and he can jump high (though he is unable to double jump or super jump). He has three attacks: Pressing Attack makes him launch teddy-bear-shaped missiles in a short arc; Pressing Attack + Down makes him drop a bomb on the ground, which explodes shortly thereafter; and pressing Attack + Up squirts out a teddy-bear missile in a shorter arc. All three of these attacks do good damage, but if Nathan takes any sort of damage in this form, it will be elevated to 9999, and he will instantly die.

5/USE

(5 MP per second while card combo is active)
Ad blocker interference detected!
Wikia is a free-to-use site that makes money from advertising. We have a modified experience for viewers using ad blockers

Wikia is not accessible if you've made further modifications. Remove the custom ad blocker rule(s) and the page will load as expected.