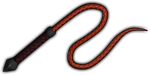 Beast Hunter is a whip used by Simon Belmont before he finds his father's Combat Cross in the Library of Dracula's Castle. It's the only primary weapon in the game that lacks a Combat Chain, which is required to rappel.
Item Data
Edit
Item Data: Beast Hunter
Image

Name

- Game
Description
Type / Users
Attributes / Consume
Statistics / Sell
Found
Notes
Simon's whip. Crafted using wild animal skins lashed with metal studding, the whip can be used to damage and kill enemies. It is flexible and hard enough to crack armor, strangle, and shred exposed limbs. (

...

)
Primary Weapon
Simon 
Find: (start with)

The Beast Hunter Whip may be a reference to the Hunter Whip seen in Circle of the Moon.
Simon utilizing Trevor's Combat Cross in favor of the Beast Hunter is a throwback to the upgrade system in the classic games. In the original Castlevania, the Vampire Killer started as a leather whip and could be upgraded to a chain whip.
Like the Shadow Whip, the Beast Hunter lacks the ability to grapple enemies and utilize rappel points to swing and climb.
It's the only whip in the Lords of Shadow continuity that is made of leather and/or animal skin.
Ad blocker interference detected!
Wikia is a free-to-use site that makes money from advertising. We have a modified experience for viewers using ad blockers

Wikia is not accessible if you've made further modifications. Remove the custom ad blocker rule(s) and the page will load as expected.