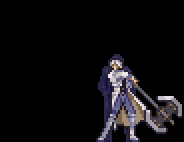 A Battle Axe is a combat axe with a double-edged head.
Item Data
Edit
Item Data: Battle Axe
Image

Name

- Game
Description
Type / Users
Attributes / Consume
Statistics / Sell
Found
Notes
'
Simon Belmont 
Consume: None 
Find: Treasure Chests, Old Crone

Axe designed for hand-to-hand combat.
Weapon
Soma 
Attrib: Sword

ATK +50

Common Drop: Minotaur, Red Minotaur

A combat axe with a double-edged head
Axe
Soma 
Attrib: Slash

ATK +65
Sell: $3,900 
Buy: $7,800 Find: Yoko's Shop, Hammer's Shop
Create: Axe + Axe Armor Soul

Effect: Overhead swing; Warp smash
Evolve: + Manticore Soul >> Bhuj

A large war axe developed for versatility. Requires skill to wield well, but deadly if used correctly.
Axe (Two-Handed)
Hector 
ATK +70

Create: Bardiche + Dragon Killer + Forgotten Memory

Evolve: Death's Scythe

A double-edged axe designed for combat.
Weapon (Axe)
Jonathan 
Attrib: Slash

ATK +60
Sell: $1,250 
Buy: $5,000 Find: Entrance (Vincent's shop)
Conditions: Defeat Stella in the Tower of Death. 
Double-edged axe designed for combat.
Axe
Soma 
#hands: 2

ATK +16
Sell: $1,050 
Rarity: **
Buy: $4,200 Drop: Minotaur

Effect: Special - Warp Smash (15 MP)

Animations
Edit
References
Edit
Ad blocker interference detected!
Wikia is a free-to-use site that makes money from advertising. We have a modified experience for viewers using ad blockers

Wikia is not accessible if you've made further modifications. Remove the custom ad blocker rule(s) and the page will load as expected.