Barbariccia is an enemy in Castlevania: Dawn of Sorrow. He is one of the guardians of the dungeons of Hell.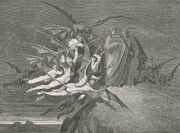 Barbariccia is a demon who appears in Inferno of Dante's Divine Comedy. In the poem, he is part of a demonic troop called the Malebranche, who guard the fifth bolgia of Malebolge. The Malebolge is found in the eighth circle of Hell, Fraud, where corrupt politicians are immersed in burning pitch.
Description
Edit
Barbariccia is a purple demon who wields a spear. He looks and behaves much like Draghignazzo and Malacoda, although he's the weakest of them.
He is a lesser demon who may be destroyed very easily if Soma can reach him. He flies very quickly through the air. When it spots Soma, he will float backward and then swoop down at him with great speed. Although he may look dangerous, he's actually quite weak and Soma shouldn't find much trouble in defeating him once he comes in range.
Enemy Data
Edit
| No. | Name | JPN | HP | MP | ATK |
| --- | --- | --- | --- | --- | --- |
| 58 | Barbariccia | | 39 | 123 | 32 |
| | |
| --- | --- |
| Description | "One of the guardians of the dungeons of hell." |
Ad blocker interference detected!
Wikia is a free-to-use site that makes money from advertising. We have a modified experience for viewers using ad blockers

Wikia is not accessible if you've made further modifications. Remove the custom ad blocker rule(s) and the page will load as expected.