Ad blocker interference detected!
Wikia is a free-to-use site that makes money from advertising. We have a modified experience for viewers using ad blockers

Wikia is not accessible if you've made further modifications. Remove the custom ad blocker rule(s) and the page will load as expected.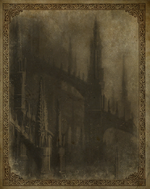 Balcony is the first stage of Lords of Shadow Chapter 7. The level's unlockable trial requires that Gabriel finishes the level after beating the logic gates puzzle in seven movements.

Zobek's Journal
Edit
The Butcher who commanded the castle kitchens feeds the corpses of the dead to the Ghouls. The efficiency of the Queen's household is formidable indeed. The vampires drain the blood and the Ghouls feed on the remains, nothing is left. Using his powers is making Gabriel far stronger than I anticipated. He will need more than physical prowess when he faces her. She can put a glamour upon his hear that will tempt him to forget everything he knows, even his beloved. She holds the next piece of the mask, and I fear that he will fall at the last.
Enemy Data
Edit
Enemy Data: Balcony
Image

Name

- Game
Description
Statistics
Items
Location
'The spirit of the brave fighter never dies,' according to a popular saying and, in some places filled with foul magic energy, the souls of slain warriors don't leave the material plane and remain trapped, their sole mission to torment living beings. (

...

)
Strong: Fairy
Weak: Dagger, Light Fairy, Holy Water, Crystal x3
Size: Medium
Difficulty: High

Chapters 4, 7, 8

The human inhabitants of the Vampire Castle suffered a cruel fate once the Dark Lord set up her lair inside. (

...

)
Strong: Dagger x3, Fairy
Weak: Dagger, Light Fairy, Holy Water, Crystal x3
Size: Medium
Difficulty: Medium

Chapters 5, 6, 7, 8, 10, 13

A Vampire can be born from many different creatures; the ceremony itself involves the exchange of blood between the 'host' and the soon-to-be Vampire. (

...

)
Strong: Fairy
Weak: Dagger, Light Fairy, Holy Water x3, Divine Shield x2, Crystal x3
Size: Medium
Difficulty: Medium

Chapters 5, 6, 7, 8

Item Data
Edit
Item Data: Balcony
Image

Name

- Game
Description
Type / Users
Attributes / Consume
Statistics / Sell
Found
Notes
(Blue magical gems that can be inserted into the empty slots of a Light Gem Medallion.)
Gabriel 
Find: Chapters 2, 3, 4, 5, 6, 7, 8, 9, 10, 11

(Red magical gems that can be inserted into the empty slots of a Shadow Gem Medallion.)
Gabriel 
Find: Chapters 2, 3, 4, 5, 6, 7, 8, 9, 10, 11

Related Locations
Edit