Poltergeist
Talk

2
4,021pages on
this wiki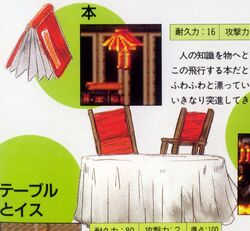 The Poltergeist effects tend to move furniture around, especially tables and chairs. Ruler Swords are Poltergeists that control weapons.

Enemy Data
Edit
Enemy Data: Poltergeist
Image

Name

- Game
Description
Statistics
Items
Location
'
HP: 1
Atk: 1

3. Banquet Room

'
HP: 80
Exp: 100
Atk: 2

6. The Halls

Possessed Ouija table.
Level: 5
HP: 20
Exp: 20

Drop: Barley Tea, Morning Set

Marble Gallery

'
Strong: Darkness
HP: 105
Exp: 510
Atk: 360
Def: 380

Common Drop: Cursed Ring (2%)
Rare Drop: Mind High (0.6%)

Underground Warehouse

An enchanted desk possessed by a spirit summoned in a seance.
Weak: Bashing, Fire
HP: 8
MP: 1
Exp: 4
Atk: 6
Timestop: Affected

Soul: Relaxation (4%)

The Lost Village

Game Specific Information
Edit
Dawn of Sorrow
Edit
The Ouija Table is an enemy encountered early in the game. It is found in only a few areas of the village area. It's name comes from the Ouija Board, a device that is thought to channel spirits. The name is appropriate because the table appears to be possessed or affected by poltergeist activity. It's only form of attack is to slowly float towards you.
Its soul power allows Soma to sit in chairs. While sitting his HP and MP are restored. HP recovery is at a rate of 16 per second.